Drouner Holsteins shines in Holland Holstein sHow ring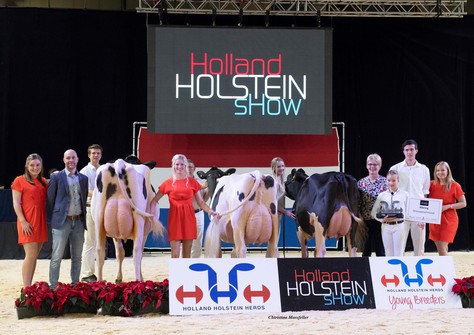 Type
Albring Family with the best Herd Group of HHH 2019
Last Saturday the Holland Holstein sHow took place. The quality of the animals was fantastic. The difference between the top and the bottom of the class is getting smaller and smaller every year. You can conclude that Holstein breeding in The Netherlands is in full progress. Several participating GenHotel members had a very succesful day and enjoyed the show. 
One of the breeders which had an amazing day was Piet van Rees (PR Holsteins). Also the Albring family (Drouner Holsteins) was had several show winners at the HHH Show.
The show startet at 9.00u with the young first calvers. In the young black and white ring judge Stefan Widmer placed Drouner Anna 1529 (s. Impression) first. Anna 1529 is bred and owned by Drouner Holsteins. At the end of the morning she was named Junior Holstein Champion.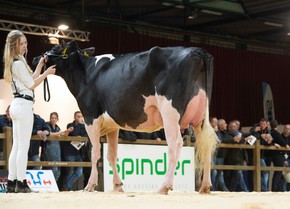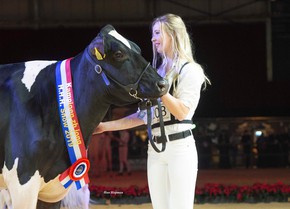 Drouner Anna 1529 (s. Impression) first in her class and named Junior Holstein Champion at the HHH Show 2019.
Also 2nd calver Drouner Aiko 1349 Red VG-85 (s. Effort) from Drouner Holsteins made a stunning impression on judge Tjebbe Huybrechts. She got placed first in her category and named Reserve Intermediate Champion Red Holstein.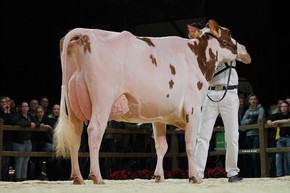 Douner Aiko 1349 Red VG-85 (s. Effort) first in the youngest intermediate class and red & white Reserve Intermediate Champion 2019.
PR Darla VG-89 (s. Mogul), bred by PR Holsteins, made it to the first place and had the best udder in her intermediate class. PR Darla VG-89 is owned by Schep Holsteins and in her 2nd lactation.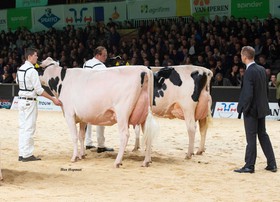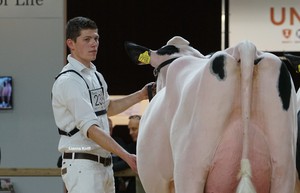 PR Darla VG-89 (s. Mogul) first place and best udder of her intermediate black and white class.
For the Albring family the day wasn't over yet! In the senior category the 4th lactation Drouner Ajdh Cosmo EX-91 (s. Mogul) entered the ring. Cosmo compete in the finals after she got placed second in her strong class and got the title of Reserve Senior Champion Holstein cows. In the Grand Championship final she became Honorable Mention. We know Drouner Ajdh Cosmo EX-91 from earlier successes:
Junior 2-Yr Old Champion HHH-Show 2015
1st Intermediate Class NRM 2017
Reserve Intermediate Champion Beilen 2017
1st Intermediate Class HHH-Show 2017 & Honorable Mention Intermediate Champion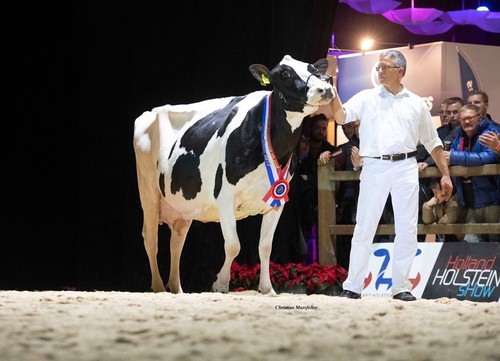 Drouner Ajdh Cosmo EX-91 (s.Mogul) res. Champion Senior cows & HM Grand Champion HHH 2019. 
To crown it all, the Albring family also won the Herd Group black and white. Participants of this group were Drouner K&L Aiko 1398 (s. Bestboss), Drouner Ajdh Cosmo (s. Mogul) and Drouner Anna 1529 (s. Impression).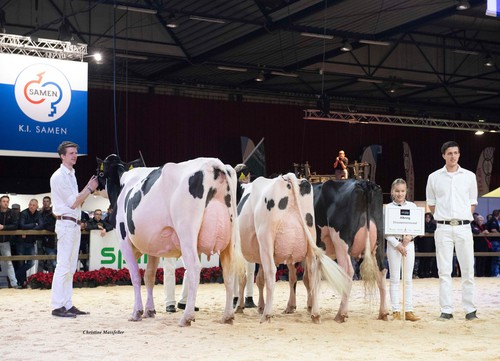 Best Herd Group Holstein - Drouner Holsteins at HHH 2019.
With all of the successes from this show, Drouner Holsteins was named by many best breeder of the Holland Holstein sHow 2019! 
                        For all the results of the Holland Holstein sHow 2019, click HERE.
GenHotel congratulates all of her members with their great show results!