Perfect scores for Bacchus Holsteins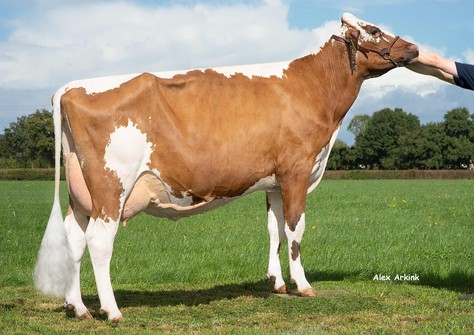 General
Bacchus Aukje 465 W Red P classified!
With an average of 84.3 points among the milking 2-yr-olds, Bacchus Holsteins managed to transfer a great, young herd to the buyer of their milking herd in terms of conformation!
Since the spring of 2022, Bacchus Holsteins, the Van den Braak family, has only kept youngstock and their milking cows have been taken over by the Van den Hengel family. There, a classification day recently took place with a great Bacchus influence by a large number of milking females that are still owned by the Van den Braak family or bred by them.
The group of 21 two-yr-olds averaged 83.3 AV. Two heifers that stood out were the VG-87 scored Bacchus Mieke 118 P RDC, a Regancrest Milford-P x VG-85 Janco P and Bacchus Aukje 466 W Red P, a Jacko PP-Red from Bacchus Aukje 448 W Red VG-87 - dam of the bulls Bacchus Chalk RF and Bacchus Audy W P Red @CRV. Bacchus Aukje 466 W Red P was good for VG-87 with VG-88 Mammary! She is projected to produce 9,768 kgsM with 4.44% fat and 3.63% protein in 305 days. Her full sisters, Bacchus Aukje 468 Red P and Bacchus Aukje 465 W Red P (dam of Baseline PP) were also classified this day and both received a well-deserved VG-86 AV. Their special Whiteback markings (also known as the breed Lineback) were bred in this line through granddam Bacchus Aukje 434 W RDC, which is sired by the renown sire Murphy. From this interesting, polled and white Lineback marking, full sisters Aukje 465 W Red P VG-86 and Aukje 466 W Red P VG-87 will soon be flushed! The latter mentioned cow has a homozygous polled Delta Launch PP-Red daughter, that is currently the No. 1 gNVI, polled, red and Lineback!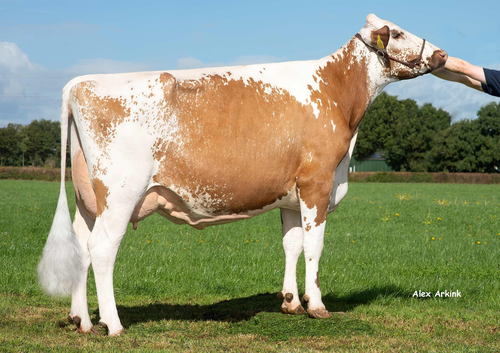 Bacchus Aukje 466 W Red P VG-87 with VG-88 mammary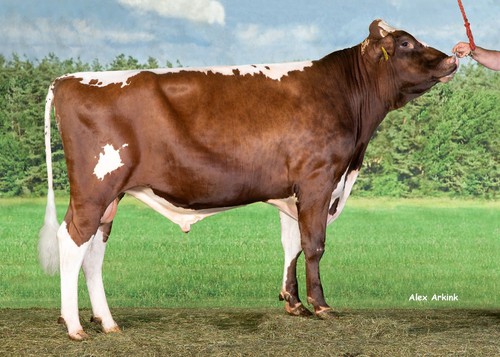 Full brother Bacchus Audy W P Red
From the Golden-Oaks Mark Prudence EX-95 family, the first calver Bacchus Hiawatha 102 P with VG-86 AV was classified. This daughter sired by a bull for natural service comes from a Tarzan daughter named Bacchus Hiawatha 11. She's actually the maternal-sister of the leading 1 RZG progeny proven sire in Germany: DG OH Topstone. The now third calver Tarzan was also re-scored. The great producing (in 305 days 13,527 kgsM with 4.24% fat and 3.59% protein) Hiawatha 11 upgraded her score to VG-88 with EX-91 Mammary!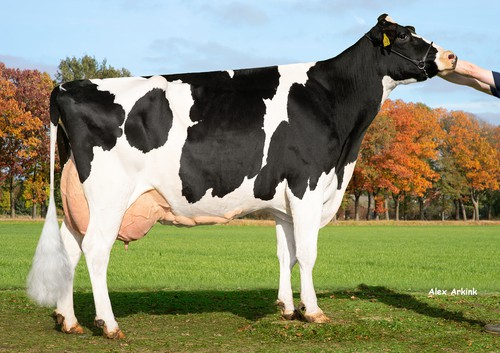 DG OH Donna RDC VG-89 (s. Rubicon), dam of Bacchus Hiawatha 11 VG-88
Bacchus Eliza Mae, an EDG Delta B52 from the Whittier-Farms Lead Mae EX-95 family, calved in February and still flawlessly shows a daily production of >35 kgsM/day! Eliza Mae was good for VG-86 (VG-88 MS). From another influential cow family, namely that of Glenridge Citation Roxy EX-97, Bacchus Roxy 17 Red (by Oelhorst Undercover) managed to convince the classifier and was good for VG-86 with VG-88 Mammary. As well from the same family, the second calver Bacchus Roxy 16 RDC P (by EDG Delta B52) was shown for an upgrade. The Delta B52 was able to upgrade its score considerably to no less than VG-88 with EX-90 Mammary in third lactation.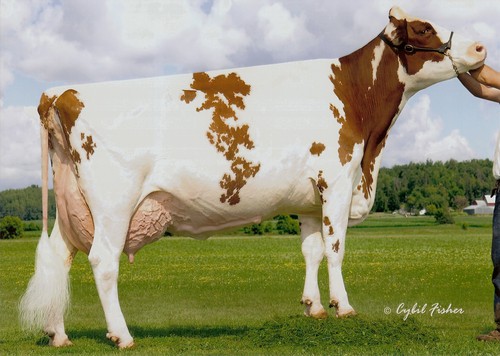 Scientific SS Debut-Red EX-90, 4th dam.
Highest re-classification of VG-89 with EX-90 Mammary was for Bacchus Ikessy 6 Red (Plataan Summer P x Dc Willemshoeve Magna Carta P). The VG-89 Summer P comes from a deep German cow family from which, among others, Oelhorst AK Ikessy VG-88, Res. Junior Champion HHH 2007 and also fourth dam of Ikessy 6 Red, also descends! From this same cow family, a first calver Ocd Drake Escobar P Red also managed to get a VG-86 score!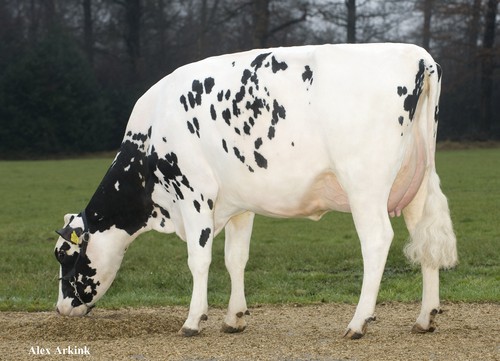 Oelhorst AK Ikessy VG-88 (s. Shottle)
Find all highlights in the overview below.
| | | | | | | | | | |
| --- | --- | --- | --- | --- | --- | --- | --- | --- | --- |
| Name | Sire | Dam | Col | Lact | FR | DS | MS | FL | TOT |
| Ikessy 6 Red | Summer P | Ikessy 3 Rc P VG-87 | B | 3 | 90 | 91 | 90 | 96 | 89 |
| Hiawatha 11 | Tarzan | Donna RDC VG-89 | B | 3 | 86 | 88 | 91 | 87 | 88 |
| Roxy 16 RDC P | Delta B52 | Roxy 12 Red PP VG-85 | B | 2 | 88 | 91 | 90 | 84 | 88 |
| Lila Z 6 P | Revisor P | Lila Z 4 | B | 2 | 88 | 89 | 85 | 87 | 87 |
| Mieke 118 RC P | Mineral PP | Mieke 117 Red VG-85 | B | 1 | 87 | 86 | 89 | 84 | 87 |
| Aukje 466 W Red P | Jacko PP-Red | Aukje 448 W Red VG-87 | R | 1 | 88 | 88 | 88 | 86 | 87 |
| Roxy 17 Red | Undercover | Roxy 14 Red P GP-84 | R | 1 | 86 | 85 | 88 | 83 | 86 |
| Aukje 465 W Red P | Jacko PP-Red |  Aukje 448 W Red VG-87 | R | 1 | 89 | 88 | 83 | 86 | 86 |
| Hiawatha 102 P | Jamba P | Hiawatha 11 VG-88 | B | 1 | 86 | 86 | 87 | 86 | 86 |
| Aukje 468 Red P | Jacko PP-Red | Aukje 448 W Red VG-87 | R | 1 | 85 | 84 | 85 | 88 | 86 |
| Ikessy 11 Red | Escobar P-Red | Ikessy 8 Red GP-84 | R | 1 | 87 | 87 | 86 | 86 | 86 |
| Eliza Mae | B52 | Eliza Mae 12 GP-81 | B | 1 | 86 | 88 | 88 | 83 | 86 |
| Rita 610 Red | Topliner | Rita 604 Red | R | 1 | 85 | 87 | 86 | 85 | 86 |