Dam of top gTPI R&W sire Whisper-Red classifies VG!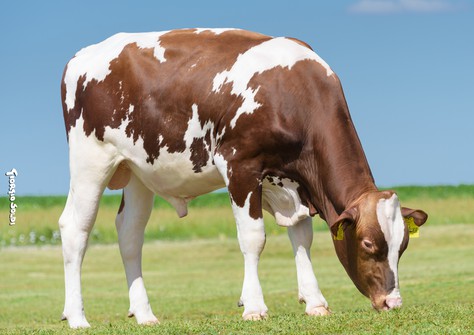 General
3STAR OH Whisper-Red is with 2934 gTPI the number 3 R&W worldwide!
The first calver Diekers K&L DL Whiskey RDC, a Peak AltaDateline x K&L Sv Sunny Red GP-84, was classified last week with her first score. With two high ranking sons in different genomics systems Whiskey RDC is the 10th generation of bull dam in a row!
Diekers K&L DL Whiskey RDC turned out to be a successful brood cow at the Diekers Holsteins dairy farm for the 3STAR Breeding Program, which resulted in the birth of 20 offspring. Two of her sons came out great with the first genomics results and therefor are sold to international AI-studs. The bull Diekers 3STAR OH Fladderak RDC (by Poppe Freestyle-Red) left at a young age to the Spanish Xenetica Fontao and debuted there as a young bull in November 2022 with 5239 gICO in place 6. The Freestyle-Red son is still one of the top ranking high genomic young bulls in Spain.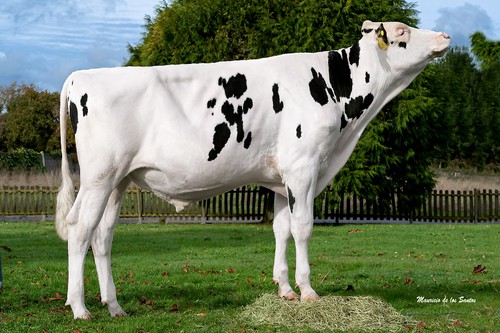 Diekers 3STAR OH Fladderak RDC (Freestyle-Red x Diekers K&L DL Whiskey RDC VG-85)
During the last August proof run, her 3STAR OH Ranger-Red son 3STAR OH Whisper-Red debuted with 2934 gTPI & 3732 gLPI, which makes Whisper-Red the number 3 R&W on the gTPI basis and the number 5 gLPI R&W worldwide! This high scoring red Ranger-Red son is available at Semex. 
Bull dam Whiskey RDC, from the Des-Y-Gen Planet Silk RDC EX-90 cow family is projected at 10,197 kgM with 4.50% fat and 3.55% protein in 305 days. During the classification she scored VG-85 and no less than VG-88 for mammary and will be pictured in the near future. Whiskey RDC has two full sisters which are both milking now and produce a lot of milk as well!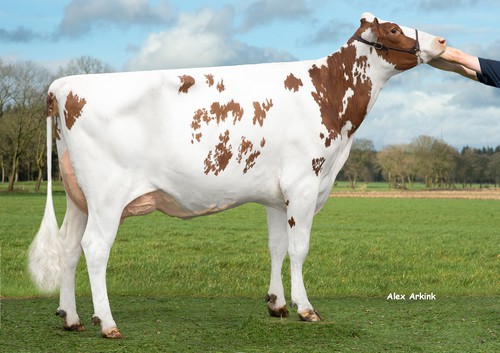 De Oosterhof K&L Ruby Sun Red VG-85 (Rubels Red x Sunny Red GP-84)

K&L OH Matty P RDC (Match P RDC x Sunny Red GP-84)