Big Holsteins impresses with their 90th 100.000 kgM cow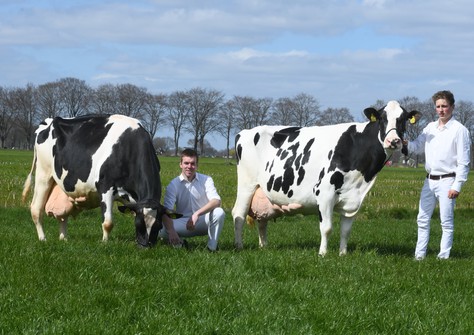 General
Big Clara 123 EX-90 (198.670 kgsM) and her descendant Big Clara 133 VG-86
A fantastic achievement for the Knoef family of Big Holsteins, where this month no less than the 90th dairy cow has exceeded the lifetime production of 100,000 kgs of milk. There are not many dairy farmers in the Netherlands that manage to retain the longevity of their cows as they do at Big Holsteins!
The year 2021 is far from over and yet 8 cows from Big Holsteins have already been added to the - already long list - of 100,000 kgs milk lifetime cows this year. The 90th cow on this list is 9-year-old Kylian daughter Big Boukje 307 RDC VG-85, which was bred out of an EX-90 Lord Lily. Both Boukje 307 RDC VG-85 her dam and great-granddam also reached this same milestone. Her daughter Big Boukje 343 Red EX-91 (s. Red Rocks Mason RDC) is working hard to follow in Boukje 307 RDC her footsteps with a current life time production of 47,844 kgsM, 4.22% fat and 3.75% protein. This while she's working on her third lactation. The Mason RDC-daughter became known after her victory during the Wintershow Zwolle in 2019, where she won the Red and White Grand Championship.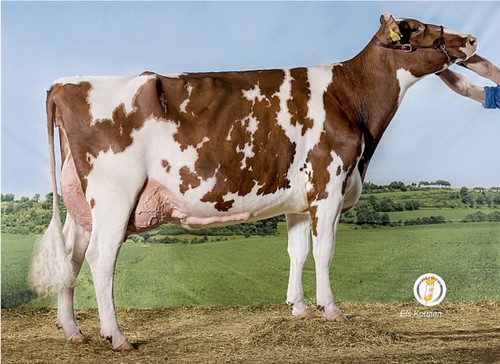 Big Boukje 343 Red EX-91 (by Mason RDC), daughter of Big Boukje 307 RDC VG-85
Right now, Knoef's herd contains 167 dairy cows that are on average 4.10 years old and achieve a 305-day lactation of 12,083 kgs of milk with 4.51% fat and 3.50% protein. In recent years, this Dutch dairy farm has also supplied several bulls to AI's, such as Big Redbone, Big Mindset, Big Kofu and Big Macht. 
An overview of the last 10 cows that reached the 100,000 kgsM milestone at Knoef's dairyfarm:
| Name | Sire | Days | Milk (Kg) | %F | %P | Classification |
| --- | --- | --- | --- | --- | --- | --- |
| Big Boukje 307 | Kylian | 2.419 | 100.140 | 4,29 | 3,71 | VG-85 |
| Big Super Star 106 | Fidelity | 2.399 | 100.970 | 4,06 | 3,29 | VG-89 |
| Delta Lotus | Paxton | 2.269 | 100.017 | 3,79 | 3,49 | VG-86 |
| Big IJbeltje 464 | Shogun Ps | 2.266 | 100.028 | 3,71 | 3,44 | GP-83 |
| Big Clara 133 | Puntdroad | 2.574 | 100.495 | 4,75 | 3,63 | VG-86 |
| Trijntje 117 | AltaEsquire | 2.573 | 101.017 | 4,39 | 3,69 | VG-86 |
| Big Clara 131 | Diamond | 2.594 | 100.558 | 4,32 | 3,63 | VG-85 |
| Big Super Star 76 | Bertil | 2.873 | 100.799 | 4,45 | 3,67 | VG-86 |
| Big Boukje 297 | Peinzer Boy | 2.568 | 101.738 | 3,94 | 3,29 | VG-86 |
| Big Rinie 155 | Shogun Ps | 2.318 | 101.806 | 3,62 | 3,60 | VG-88 |
| Big Anna Jacoba 124 | Cricket by | 2.311 | 100.520 | 3,22 | 3,42 | VG-88 |