Sixty heifers classified, averaging 84.4 points!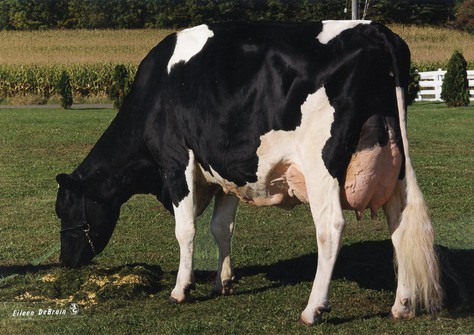 General
Whittier-Farms Lead Mae EX-95, tremendous brood cow!
It was a great day for the Masscheleyn family of the Belgian Zwanebloem Holsteins. Last week no fewer than 60 heifers were classified. Masscheleyn does not only impress in numbers, but also with the scores achieved!
Five heifers scored a total score of VG-87. One of these heifers is Zwanebloem Casper Firefly, a Claynook Casper from the Ralma Juror Faith EX-91 family. Particularly striking is her VG-89 (maximum) score for udder. From the same line Zwanebloem Biggie Faith 1702 (s. S-S-I Bandares Biggie) - who calved at 1.10 yrs - was also classified. Faith 1702 was scored VG-86 AV.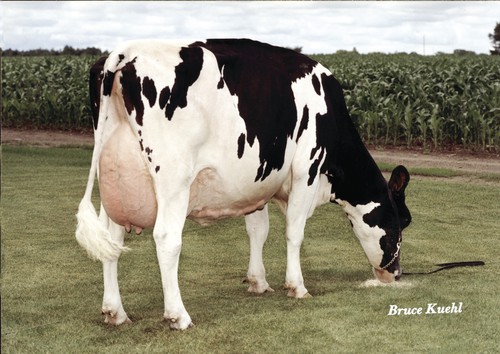 Ralma Juror Faith EX-91, great foundation cow
A striking appearance within this Belgian group is Koepon Date Classy 453, a first calf Peak AltaDateline directly out of Koepon Hero Classy 354 VG-85. This Classy was classified VG-86 (VG-87 MS).
In addition to the fantastic scores for the heifers, there were also two super rescores. The seventh calf Man-O-Man daughter Zwanebloem Mom Mae finished the day with an excellent score of EX-90 (EX-91 F&L). Mom Mae EX-90 is a descendant of Whittier-Farms Lead Mae EX-95 and has already produced 76,511 kgs milk with 3.63% fat and 3.36% protein during her seven lactations! Masscheleyn's farm has descendants of Silver, King Doc and Peak Hotline out of her.
A super performance was also delivered by Zwanebloem 4144, who was classified with VG-89. Extra special is the fact that it is a 10th lactation Picston Shottle daughter! The fourth dam of 4144 VG-89 was bought years ago from Germany.
No fewer than 36 heifers had a score of VG-85 or higher, below is an overview of the highest scores and the re-scores:
| | | | | | | | | | |
| --- | --- | --- | --- | --- | --- | --- | --- | --- | --- |
| Name | Sire | Dam | Color | Lact | FR | DS | MS | FL | TOT |
| Mom Mae | Man-O-Man | Anneke VG-85 | B | 7 | 89 | 89 | 88 | 91 | 90 |
| 4144 | Shottle | 7853 | B | 10 | 87 | 88 | 89 | 89 | 89 |
| 1766 | Yoda | 1383 GP-83 | B | 1 | 86 | 86 | 87 | 87 | 87 |
| Casper Firefly | Casper | Pety Firefly 1167 VG-87 | B | 1 | 84 | 86 | 89 | 86 | 87 |
| Biggie Masschie | Biggie | Dozer Masschie GP-82 | B | 1 | 88 | 88 | 87 | 87 | 87 |
| 1704 | Bandares | 0745 GP-84 | B | 1 | 88 | 87 | 86 | 84 | 87 |
| 1710 | Bandares | 1294 VG-86 | B | 1 | 87 | 87 | 86 | 86 | 87 |