Wilder K41 RDC's legacy still expands across Europe
General
Poppe Kanu 1980 P Red VG-86, Solitair P Red-daughter of K41 RDC VG-87
During the GenHotel Selection Sale in 2017, Wilder Holsteins offered the then five-month-old heifer Wilder K41 RDC (by Board) with an index of 159 gRZG. The highest and last bid was made by Poppe Holsteins, so the red carrier out of the well-known bull dam Wilder K25 Red EX-90 left to the Netherlands to build up a brilliant future!
And a great future it certainly has become! The high scoring Board daughter — maternal-sister to daughter proven sires Wilder Baymax Red and Wilder Matt RF — fulfilled multiple embryo contracts. With a total of 36 embryos, which were transferred in the Netherlands but also sold to German AIs, the Wilder Kanu 111 RDC VG-88 empire - from which K41 RDC hails - expanded further at full speed. Partly due to these many flushes, it resulted in the birth of no less than 45 male and female offspring. At 2.07 years, K41 RDC calved for the first time, was classified with VG-87 three weeks later and recently freshened for the third time at 6.11 years. Her lifetime production currently stands at 57,937 kgsM with 4.64% fat and 3.79% protein.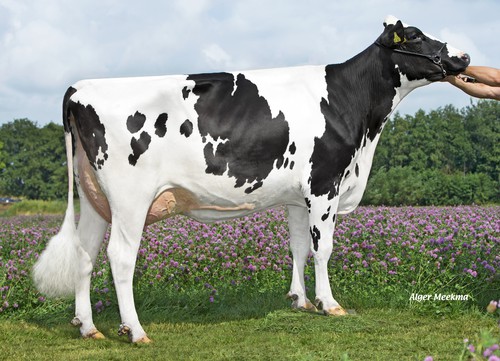 Wilder K41 RDC VG-87, a cow coming up in many European pedigrees
Through both the sale of embryos and home bred bulls, K41 RDC grew into the third generation bull dam from the Wilder Kanu family. For example, the great breeding Board supplied the April proven debutants K&L Palace Red @RUW/VOST (#6  R&W Interbull NVI proven & #24 R&W RZG proven) and Poppe RUW Alano @RUW, Poppe RUW Allegro @RUW, which will get his first proof in December and Irongen Redkato P Red @Intermizoo, which, like Allegro, was sold as an embryo. In the Netherlands, her Delta Jacuzzi-Red son Poppe Kayne Red is stationed at KI Samen.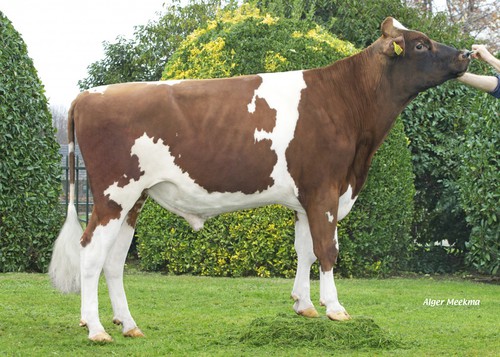 ​
Poppe Kayne Red (s. Jacuzzi-Red)

K&L Palace Red (s. Pace-Red)
Through her female offspring, continuous success is also achieved. One of the most successful daughters is Poppe Kanu 1980 P Red, sired by Solitair P Red and therefore full sister to the mentioned Italian bull Redkato P Red. Kanu 1980 calved for the first time in September 2022 and has so far produced 12,399 kgsM with 4.21% fat and 3.55% protein and scored VG-86. Not only has this lactating daughter got her sire's polled gene and red color, but his high genes, in combination with those of her dam, also created opportunities. Two of her sons are already at Dutch AI's and a possible third will soon also leave Poppe's herd to an AI organization. This makes Kanu 1980 P Red VG-86 the fourth generation bull dam in a row! Highest female offspring is Poppe Freestyle-Red daughter Poppe Kanu 2370 Red with 153 gRZG.
K41 RDC's daughter Poppe Kanu 2037 RDC VG-85 with VG-88 Frame (by Pitcher-Red) is also a good example of the breeding strength of this cow family. Now over 340 days in lactation, the Pitcher-Red still achieves a daily production of more than 37 kgs. She is pregnant again and due in December 2023. Poppe bred three daughters out of Kanu 2037 RDC, sired by Delta Launch PP Red and Delta Taskforce P.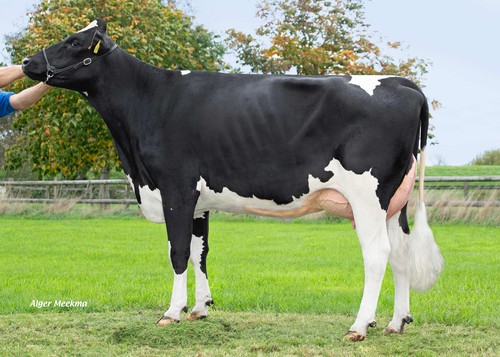 Poppe Kanu 2037 RDC VG-85 (Pitcher Red x K41 RDC VG-87)