Five cows from Van het Zomerbloemhof now Excellent!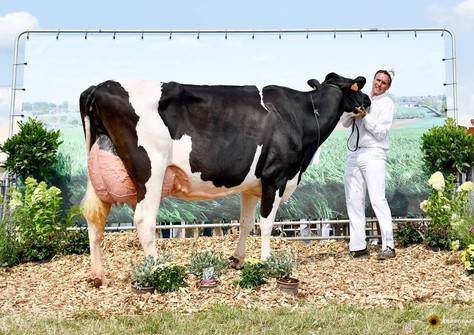 General
Show diva Lola was with EX-92 the highest scored cow of the day
The Lahousse family of the Belgian dairy farm Van het Zomerbloemhof recently enjoyed an outstanding classification day, in which no less than five females increased their score to EX-90 or even higher!
Multiple title winner Lola V/h Zomerbloemhof (by SSI Mogul Reflector) fully blossomed this summer after freshened for the fifth time in March! 2023 seems to be the year of Lola. After being named B&W Senior Champion of Agri-Flanders 2023 in January Lola also won the Senior Championship of the Provincial Prijskamp show in Wulpen last July. With these results she exceeded all expectations. But last week there was ánother big highlight for the descendant of the American brood cow Lynmead Celsius Minnow EX-91! After producing 76,700 kgsM she increased her score, from the 4th lactation EX-91 with EX-92 MS, to no less than EX-92 with EX-93 F&L and EX-92 MS!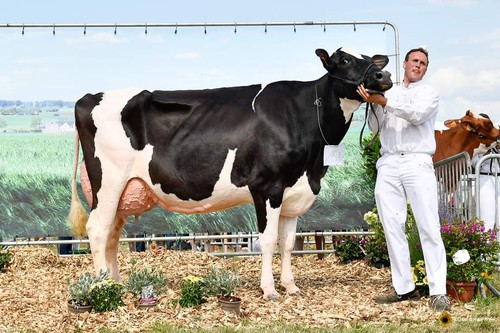 Lola V/h Zomerbloemhof EX-92 (Reflector x AltaJackman) @Provinciale Prijskamp Wulpen 2023
This year, the 31st, 32nd, 33rd and 34th 100,000 kgsM cow also presented themselves at Van het Zomerbloemhof. One of these cows is the seventh calver Jade V/h Zomerbloemhof, a Regancrest Bradnick daughter, which via a GP-83 Epic is a granddaughter to the well-known De Volmer Atwood Bailey EX-90, the full sister of proven sire Mars Yorick. With an average production over 7 lactations of no less than 15,159 kgsM, the now 9-year-old dairy cow  passed the 100,000 kgsM mark in 2141 days in January of this year. Jade makes dreams come true after this classification and increased to EX-90 with a lifetime production of 113.245kgM with 4.04% fat and 3.30% protein!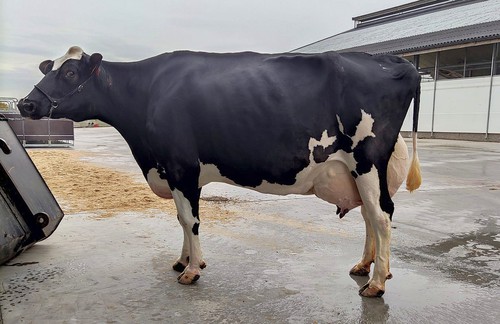 Jade V/h Zomerbloemhof EX-90 (Bradnick x Epic)
The first excellent Morningview Mcc Kingboy in Flanders is bred by Lahousse. Marieclaire V/H Zomerbloemhof, in fifth lactation, won the Resere Senior Championship West Flanders 2022 last year. She has now calved again 1.5 months ago and was able to upgrade her score to EX-90 with EX-92 F&L! The high producing, snow-white Kingboy goes, via four generations of VG, back to Rabur Outside Pandora EX-91. Lahousse has five female offspring from MarieClaire EX-90, three of which are milking: a VG-85 Kennedy, an AltaLiaison daughter with VG-87 points and a first laction Breezer scored GP-84.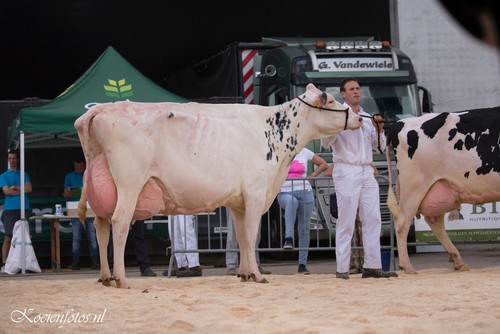 Marieclaire V/h Zomerbloemhof (Kingboy x VG-88 Mogul) now scores EX-90
Kingboy's beloved son Woodcrest King Doc has also done a great job in this herd. For example with second calver Odinkie V/h Zomerbloemhof, which realized a daily production of 62 kgsM at her peak. We also met Odinkie earlier this year within the Flemish show circuit, where she took a 2nd position in the Intermediate Class at the show in Wulpen 2023. The second lactation King Doc, from the MS Kingstead Chief Adeen EX-94 family, is the first excellent King Doc in Flanders and was good for EX-90 (EX-92 F&L).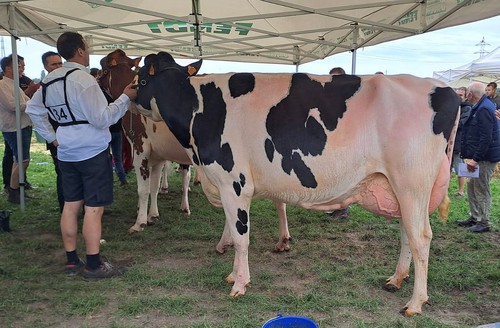 Odinkie V/h Zomerbloemhof (King Doc x VG-85 Commander) raised her score to EX-90
From the All. Nure Baxter Silvy EX-90/Morningview Converse Judy EX-93 cow family, also known by the Italian daughterproven sire All.Nure Secretariat, Lahousse owns a third calver Delta Leonardo daughter. Now 270 days in production, Nona V/h Zomerbloemhof managed to increase her score to EX-90.