Tirsvad 3STAR Mumbai P's sister classified VG!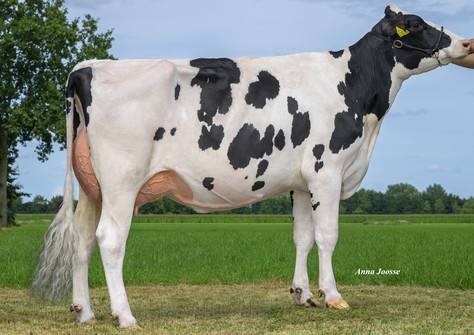 General
Tirsvad 3STAR Simon Muscat P VG-86, VG-88 MS
The two-year-old KNS Simon P-daughter Tirsvad 3STAR Simon Muscat P at Dykster Holsteins recently received her first score. Just like Tirsvad 3STAR Mumbai P @Intermizoo, Muscat P is a KNS Simon P straight from the fantastic broodcow Pen-Col Superhero Mistral VG-89!
Polled, A2A2 and from the great Gold-N-Oaks S Marbella VG-89 family, that's what the Herder family was looking for when they bought Muscat P during the GenHotel Selection Sale in August of 2020. The daughter of multiple bull dam Mistral VG-89 ranked particularly well for conformation and scored a very high total index on the German basis. And she also knows how to transmit!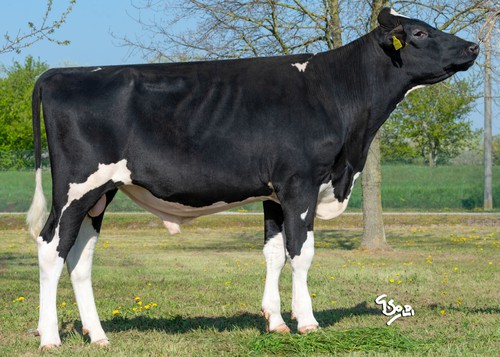 Tirsvad 3STAR Mumbai P
Muscat P delivered a heifer calf with the sire KAX Gladius. This heufer is the 155 gRZG scoring, polled Dykster 3STAR Muskax P! Due to her allround transmitting profile, just like her dam, she is contracted for embryos. Soon Muskax P will be flushed for the first time to fill an embryo order for an international AI.
Muscat P freshened in April and is projected at 12,060 kgs of milk with 4.00% fat and 3.41% protein in 305 days. The visit of the classifier resulted in a total score of VG-86 with VG-88 MS!
Would you also like to invest in this cow family? During the VOST Select Sale 10, a high 3STAR OH Ranger-Red out of Muscat P's Riveting maternal-sister will be sold! More information will follow soon.