VanHolland Holsteins: 85.6 points!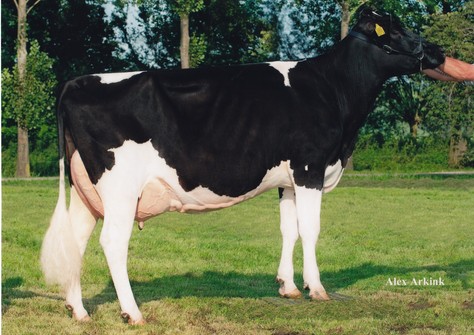 Herd classification at VanHolland Holsteins averaged 85.6 points over 8 classified 2-yr olds. These 2-yr olds averaged also 87 points for mammary. The herd average at VanHolland is now 84.4 points.
Rozalin
Two daughters of the successful donor cow VanHolland Rozalin VG-87, a Ramos daughter out of the Tui Onyx Nick family, are re-classified in their second lactation. VanHolland Riva (Wonder x Rozalin) is classified VG-86 and her Snowman half-sister VanHolland Romy is classified VG-85.
Rozalin turns into a great broodcow and her daughters have lovely udders. Riva (EX-90 mammary), Romy (EX-92 mammary) and Atwood daughter VanHolland Rochelle (VG-89 mammary), who is classified with the maximum score for her mammary system last year, prove this.
Cinderella
One of the fanciest 2-yr olds at VanHolland is VanHolland Cinderella 1, a VG-87 classified Lexor daughter. Her dam is Giessen Cinderella 48 and that makes her a half-sister to the high genomic bull VanHolland Covertry in Italy and Doorman daughter VanHolland Cinderella 2. Next dam is the famous Bolton daughter Giessen Cinderella 22 VG-85 (Bolton x Shottle daughter Giessen Cinderella 15 EX-91) who hails from the well-known Roxy family.
| name | sire | #la | fr | ds | ms | fl | tot | note |
| --- | --- | --- | --- | --- | --- | --- | --- | --- |
| Cinderella 1 | Lexor | 1 | 89 | 86 | 89 | 83 | 87 | Half-sister to VanHolland Cinderella 2 |
| Bets 165 | Braxton | 1 | 89 | 89 | 88 | 84 | 87 |   |
| Mia 23 | Windbrook | 1 | 88 | 88 | 85 | 87 | 87 |   |
| Riva | Wonder | 2 | 85 | 81 | 90 | 83 | 86 | Moeder: VanHolland Rozallin |
| Tini 141 | Bluesky | 1 | 87 | 83 | 86 | 87 | 86 |   |
| Metje 106 | Wonder | 1 | 87 | 85 | 87 | 82 | 86 |   |
| VanHolland Romy | Snowman | 2 | 77 | 86 | 92 | 86 | 85 | Moeder: VanHolland Rozallin |
| Grete 30 | Marathon | 1 | 82 | 80 | 88 | 85 | 85 |   |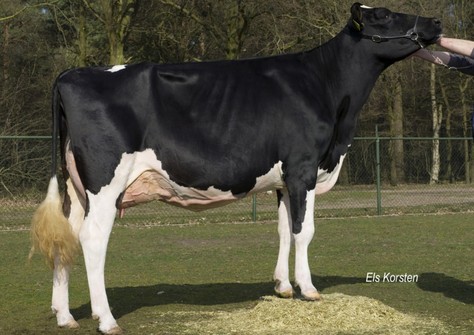 VanHolland Rochelle (Atwood x Rozalin)