Tirsvad K&L Riveting Magnolia, an extraordinarily cow!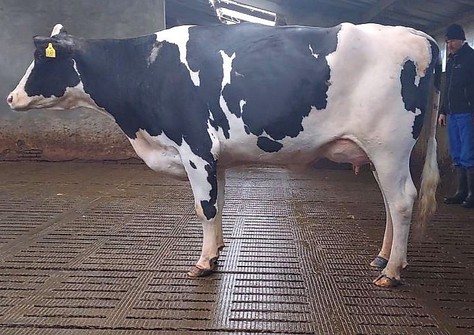 General
Pictured just 6 days after freshened for the first time!
Tirsvad K&L Riveting Magnolia, purchased in 2020, was transferred from Denmark to the Netherlands through the GenHotel Selection Sale for € 30,000 to De Oosterhof & GenHotel. With 158 gRZG, 313 gNVI and 2914 gTPI (779 NM$), this S-S-I Bg Fzzld Riveting proved to be a valuable daughter of Pen-Col Superhero Mistral VG-89, being among the top Riveting daughters in the world!
After maintaining her high genomics and the special cow family that hides behind Magnolia, her quality was strengthened a little later by the VG-89 score of her fresh scored dam Pen-Col Superhero Mistral. As a result, the high Riveting daughter was intensively flushed for the breeding program of Scholten and GenHotel. In addition to the sale of embryos through the 3STAR Embryo Program, Magnolia's owners also transferred a large number of embryos themselves to generate multiple high-ranking offspring. Meanwhile, this three-year-old Gold-N-Oaks Morty Malibu EX-94 descendant makes a huge impact with no less then 60 calves born from her in Europe!
With a five-time bull dam like Pen-Col Superhero Mistral VG-89, the bar was set high for this top donor to follow in her dam's footsteps. Nevertheless, the right matings ensured that more than 10 sons have now been purchased by 7 different AI stations! Magnolia currently scores 150 RZG, 2822 TPI (882 NM$), 1573 ISET and 776 PLI.
Female toppers from Magnolia include for example 3STAR OH Magnio RDC (by 3STAR OH Ranger-Red) with 2940 gTPI, 153 gRZG, 321 gNVI and 1648 gISET, the 162 gRZG and 348 gNVI scoring Peak AltaAlanzo daughter 3STAR RM OH Martine and a Poppe Freestyle-Red - 3STAR OH Meggilee RDC - with 2860 gTPI, 151 gRZG and 352 gNVI. From Meggilee RDC are now embryos available, click here!
Tirsvad K&L Riveting Magnolia finally calved last week, after being flushed for a long time. She starts her first lactation very well and this was all the more reason to present this great young, big-impact, breeding cow to you!