Classification day gives great results for Red Rocks Holsteins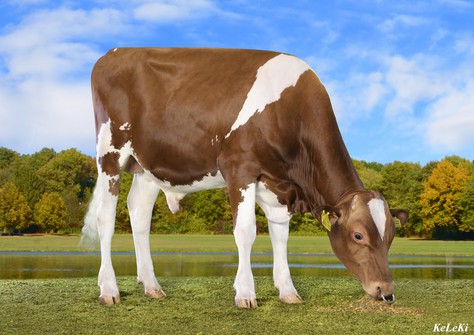 General
From the family of the top young sire Red Rocks Mask Red several females were classified.
A group of 25 females was selected for Red Rocks Holsteins' classification day. You can already know this name as they are the breeder of the number 4 gRZG R&W young sire in Germany. Wesselink's herd mainly includes Red Holsteins and is built-up by different influential cow families, such as Apina Massia, Caudumer Lol, Etazon Hyde, Rocky-Vu Rotate Extasy Ebony and Dixie-Lee Aspen. The influence of these families can therefore be found in the recent classification results!
Highest score went to the fifth calver Red Rocks Massia 136 Red. This Riverboy RF daughter descends in six generations from foundation cow Massia 13 VG-86. This line at Wesselink produced some AI bulls, for example Delta Meteor-Red and Delta Multimate Red, both graduaded as progeny proven sires. Massia 136 Red was good for VG-89 with EX-91 DS. Her maternal sister is the granddam of the number 4 gRZG R&W young sire of Germany, namely Red Rocks Mask Red!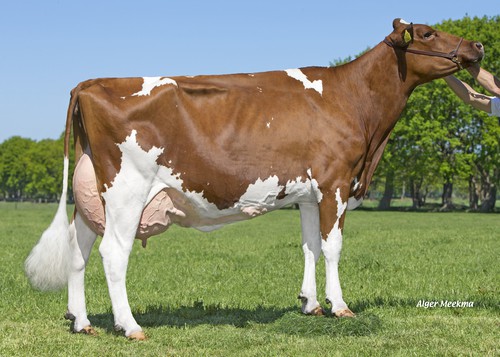 Maternal sister of her dam: Red Rocks Massia 128 VG-86 (Sunfish RF x Red Rocks Massia 99 Red VG-88)
There was also a re-score for Red Rocks K&L Warsi 9 Red, by  Gen-I-Beq Akyol Red, co-owned with GenHotel. Warsi 9 Red is a 3rd lactation cow and the maternal sister of sires Red Rocks K&L Effort Red and Red Rocks K&L Lazar P Red. The Warsi family, which traces back to Granduc Sugar Cleitus RDC EX-90, is known for its high scored cows and stunning indexes. It is also the family from which show cow Wilskracht Warsi 879 Red EX-92 hails, which won the Senior R&W Reserve Championship at the HHH show last November.  Red Rocks K&L Warsi 9 Red is scored VG-88 with EX-91 DS. With this score the family delivered the 10th generation EX/VG.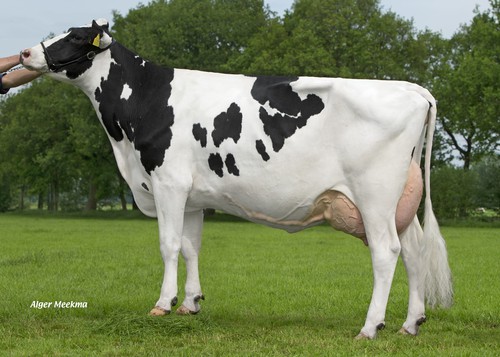 Dam Bonhill Warsi 124 RDC VG-87
Good scores came also in for some of the 2-yr-olds. First, Red Rocks Coke 2 P Red (by Jopper P Rf), she was rewarded with VG-86 (VG-88 MS). Not only do we find this Jopper P RF in the list of results, also her dam Red Rocks Coke P Red (by Moscato Red-P) was classified VG-87 with VG-89 for her mammary! Her dam is the purchased Wilder Coke RDC, a Battlecry from the Wilder Holsteins herd. This line that traces, again, back to Apina Massia bred multiple AI bulls including Coke RDC's full brother Wilder Born P RDC, Dixieland, Detroit and Sanderij Payback.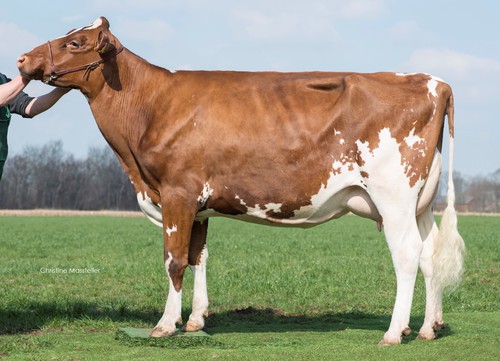 Wilder Coco P-Red VG-86 (s. Perfect Aiko RDC), dam to Wilder Born P RDC
The family of Etazon Hyde VG-86, from which high ranking Delta Jacuzzi-Red (#5 NVI R7W progeny proven) also descends, delivered offspring Red Rocks Jacolien 43 RF. This first lactation Het Meer Bali (Balisto x Atwood) calved at 1.11 years and is projected at 9,373 kgsM with 4.79% fat and 3.72% protein. Jacolien 43 RF freshened in June and classified VG-86 with a max. score of VG-89 for F&L!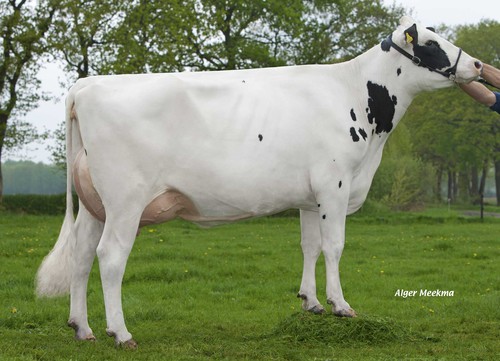 3rd Dam: Red Rocks Jacolien 1 RF VG-86 (s. Fidelity)
In the meantime the Wesselink family milks a large number of cows that own the name 'Margrit'. This branch ended up at Red Rocks through the purchase of embryos from Etaregge Apple A Margrit Red VG-85, a Holbra Applejax from the full sister of the Dutc hsire Etaregge Brooklyn Red. Now three generations later, we find the 2-yr-old Red Rocks Margrit 6 Red. With a score of VG-86 she is the 10th generation VG/EX in a row! Her maternal-sister by Escobar-P-Red was also classified this day in her 2nd lactation with VG-87 and VG-89 MS. Foundation behind this well-known Dutch branch is none other than Dixie-Lee Aspen EX-92!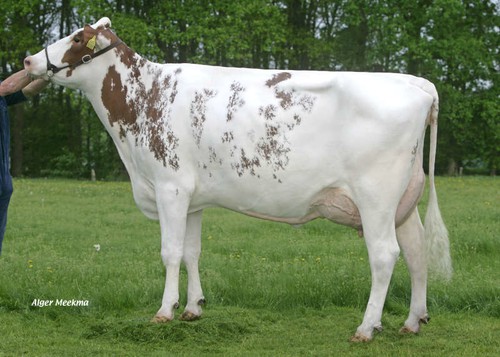 Etaregge Burns A Margrit Red VG-86
| | | | | | | | | | |
| --- | --- | --- | --- | --- | --- | --- | --- | --- | --- |
| Name | Sire | Dam | Col | Lact | FR | DS | MS | FL | TOT |
| Massia 136 Red | Riverboy RF | Massia 99 Red VG-88 | R | 5 | 90 | 91 | 88 | 88 | 89 |
| Massia 138 Red | Paloma | Massia 53 VG-89 | R | 5 | 88 | 86 | 90 | 86 | 88 |
| Warsi 9 Red | Akyol Red | Warsi 124 RDC VG-87 | R | 3 | 89 | 91 | 89 | 86 | 88 |
| Coke P Red | Moscato Red-P | Coke RDC GP-83 | R | 3 | 88 | 90 | 89 | 84 | 87 |
| Margrit 4 P Red | Escobar-P-Red | Margrit 2 Red VG-88 | R | 2 | 87 | 89 | 89 | 84 | 87 |
| Coke 2 P Red | Jopper P RF | Coke P Red VG-87 | R | 1 | 88 | 86 | 88 | 82 | 86 |
| Jacolien 43 RF | Bali | Jacolien 11 Red VG-88 | B | 1 | 83 | 86 | 86 | 87 | 86 |
| Margit 6 Red | Yeti Rf | Margrit 2 Red VG-88 | R | 1 | 3 | 86 | 86 | 87 | 86 |