'Excellent day' at Hedra Holsteins!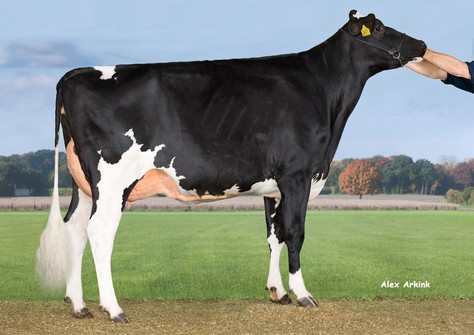 General
Hedra Sneeker 721 RDC raised her score!
At Hedra Holsteins it was recently time for the semi-annual classification day. The dairy farm of the Vernooij family currently has more than 120 dairy cows, which achieve an average 305 days production of 12,013 kgs of milk with 4.19% fat and 3.51% protein. In addition to the high milk production, the milking cows also manage to get high scores for their conformation! All the more reason to show you some highlights.
Big star of the show is the fourth calver Hedra Sneeker 721 P RDC, a De Vrendt Martini P RDC from the famous Newhouse Sneeker cow family. This dairy cow was good for EX-91, with EX-94 DS and EX-91 MS! Sneeker 721 P RDC EX-91's lifetime production currently stands at 50,491 kgs of milk with 4.25% fat and 3.61% protein. With this she's a great representative of the Sneeker family! In three generations she goes back to the famous Goldwyn daughter Newhouse Sneeker 378 VG-87, which has produced more than 25 offspring during her life. In 2019, this EX-91 Sneeker offspring won the Junior 2-yr-old Championship at the Winter Show U.F.F.
The fifth lactation maternal sister of the proven sire Delta Bookem Danno is also milking at Vernooij. Delta Riana, Delta Nelson x Delta Riant VG-87, has bred several offspring including Hedra Remarlinda 810 VG-88 (by Bouw Finder). This fantastic daughter calved for the 4th time earlier this month. Riana herself has been in milk since May 2022 and still achieves a daily production of more than 40 kg! The herdbook's classifier scored the Nelson daughter with an excellent score of 91 points! From this cow family also hails the well-known proven sire Delta Atlantic.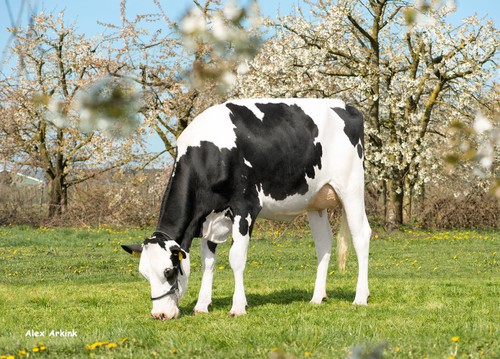 Hedra Remarlinda 810 VG-88 (Finder x Riana EX-91)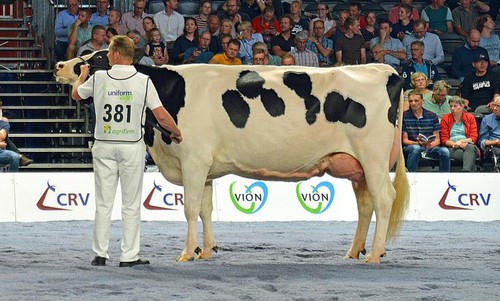 ​Delta Riana EX-91. In 2019 she triumphantly entered the show ring at the National Show
From the purchased Gastelsveer Jeltje 97 VG-85, Vernooij bred Velder Starmaker daughter Hedra Jeltje 1319. Meanwhile in her first lactation she scored VG-86. One of the highest scored 2-yr-olds is Delta Elzzi RDC with VG-87. She is none other than the full sister of former sire of sons Delta Endless RDC and Delta Eloy RDC. Their fourth dam is Weelder Esmonique 38 VG-85, dam of the proven sire Weelder Esperanto.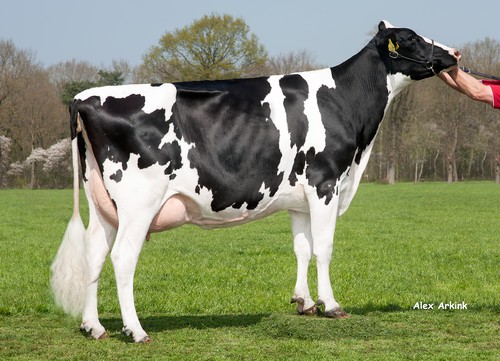 4th Dam: Weelder Esmonique 38 VG-85 (s. G-Force) 
| | | | | | | | | | |
| --- | --- | --- | --- | --- | --- | --- | --- | --- | --- |
| Name | Sire | Da | Col | Lact. | FR | DS | MS | FL | TOT |
| Sneeker 721 P | Martini P RDC | Sibbelien G-77 | B | 4 | 93 | 94 | 91 | 88 | 91 |
| Riana  | Nelson | Riant VG-87 | B | 5 | 91 | 93 | 92 | 89 | 91 |
| Elzzi RDC | Jacuzzi-Red | Eileen | B | 1 | 88 | 87 | 87 | 86 | 87 |
| Cracker  | Yes | Cool Enough GP-84 | B | 1 | 86 | 87 | 87 | 88 | 87 |
| Ninte Red | Maruo-Red | Nice P Red VG-87 | R | 1 | 86 | 86 | 86 | 85 | 86 |
| Joys | Jorben | Joyann GP-83 | B | 3 | 86 | 85 | 88 | 83 | 86 |
| Jeltje 1319 | Starmaker | Jeltje 97 VG-85 | B | 1 | 84 | 86 | 86 | 86 | 86 |
| Diedel 1314 | Remington | Riemy GP-82 | B | 1 | 86 | 82 | 85 | 85 | 85 |
| Jeltje 1320 | Starmaker | Jeltje 97 VG-85 | B | 1 | 86 | 85 | 84 | 85 | 85 |