Riethil White Fantasy classified VG-86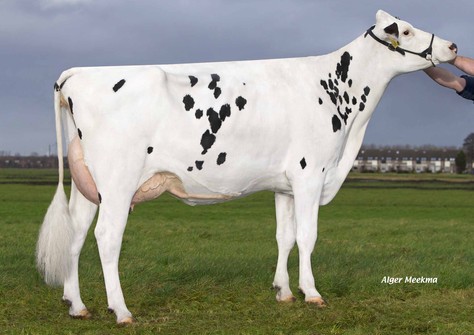 Type
Riethil White Rain VG-86, dam to White Fantasy
Fanatic daughter Riethil White Fantasy is classified VG-86 at Riethil Holsteins and is producing 23% above herd average as well. She looks a lot like her dam, Riethil White Rain. This high producing Snowman daughter is also classified VG-86 and is goes through daughters by Goldwyn, Hershel, Rudolph and Mascot back at Snow-N Dellias Darlene, the EX-94 Blackstar daughter of Snow-N Denises Dellia EX-95.
White Fantasy has daughters by Missouri and Supershot. One of her Supershot daughters scores +2438 GTPI.
Massia and Rita
In the herd of Riethil Holsteins you can find members from several well-known cowfamilies. The Massia family is represented by Riethil Chiquita 2 Red. This Jotan daughter is classified VG-85 and goes through a VG-86 Sahara daughter back at Dukefarm Burns Charisma-Red VG-89 (Mr Burns x Stadel x Apina Massia 20 VG-89).
From the Willem's Hoeve Rita family hails Riethil Riva VG-85. Riva is a Jackson daughter from a Snowman half-sister to Willem's Hoeve Rita 579 EX-90, the junior 2-yr old Champion from the NRM 2012. The pedigree of Riva: Jackson x Snowman x Goldwyn x Marshall x Lord Lily x Sunny Boy x Willem's Hoeve Rita 52 EX-93 (F16).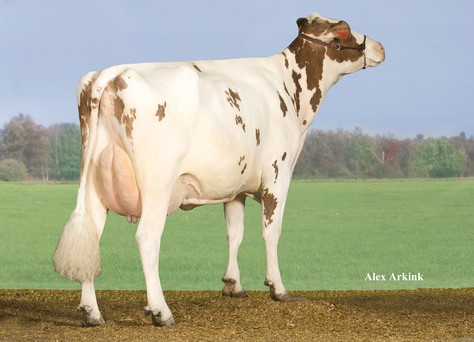 Dukefarm Burns Charisma-Red VG-89, granddam to Chiquita 2 Red