Progeny group Caudumer Solitair P Red shines at Tag der öffener Stalltür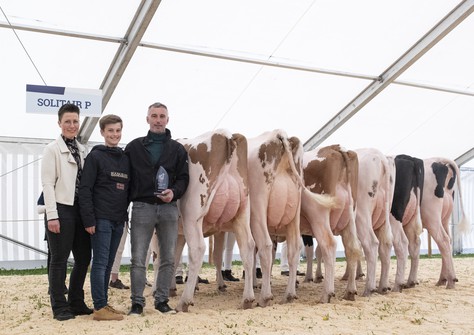 General
The Haytema family proudly shows the first milking daughters of Solitair P Red
During the 'Tag der offener Stalltür' interested parties could take a look behind the scenes of the RUW location in Münster, Germany. The RUW presented three progeny groups of the bulls El Toro Red, Rafting and Solitair P Red. After the presentation of the milking daughters, the successful breeders were duly honored. The Haytema family, breeder of Caudumer Solitary P Red, travelled to Germany to admire this amazing group of milking 2-yr-olds!
Although his reliability was not yet sufficient to be published in the official daughterproven list, the actual April 2022 Red & White leader is Caudumer Solitair P Red! After his successful use as a sire of sons and the many high scoring daughters he has bred, the first daughters in Germany and the Netherlands have recently calved. This polled R&W sire leads the progeny proven rankings with 145 gRZG, due to +1153 kgsM, positive components, super health traits and 127 gRZN!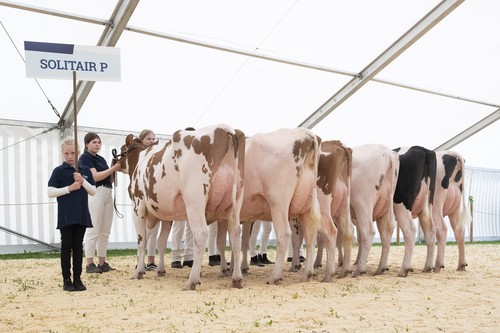 In December 2018, the polled Salvatore RDC son Caudumer Solitair P Red debuted with 165 gRZG and managed to take the leading position on the red genomics list of Germany.  This strong start caused that the son of Caudumer Lol 371 P RDC VG-86 (s. Balisto) was heavily used as a sire of sons. For no less than a whole year the huge scoring Solitair P Red retained his leading position, but from August 2020 his early sons also entered the German rankings. This caused that in December 2020 the top 10 R&W young sire list was filled with no less than 6 sons of Solitair P Red, with Sponsor P Red (166 gRZG) as its leader. In the meantime, the high Solitair P Red sons also entered the B&W list. It was Star P RDC which came in second in the December 2020, with a score of 166 gRZG .
We eagerly await what this progeny proven bull, bred by the Haytema family (with now 38 lactating daughters), will show in the next proof run, especially after his successful performance as a sire of many sons and the numerous high female offspring. In any case, the first impressions of Caudumer Solitair P Red his milking daughters are very promissing!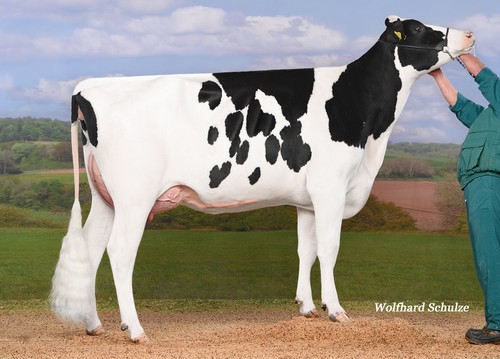 CEH Marlis (s. Solitair P Red)