Southland Holsteins breeds their 26th excellent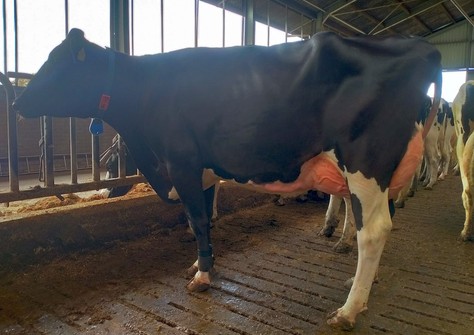 General
Southland Jodie 1 EX-91 (EX-MS), the first EX Mr Brash daughter in the Netherlands! (Photo: Van Beek)
The last classification round led to the 26th excellent cow at Southland Holsteins. Furthermore, in addition to some reclassifications, there were also beautiful scores for the 2-yr-olds. The average of these milking 2-yr-olds was no less than 85.2 points!
Southland Jodie 1, a Mr Brash from the Jodies of Fradon Holsteins, calved for the 3rd time in mid-April. Shortly thereafter, she was quickly freshened-up to meet the classifier again. This resulted in a beautiful EX-91 with an EX-91 Mammary. Not only is she the 26th EX cow bred/owned by Van Beek, but she is also the first Mr Brash daughter with an EX score in the Netherlands! Granddam Fradon-WL SS Jodie Red EX-94 won her class at the Swiss Expo in 2010. Great-granddam Fradon Encount Jodie Red EX-94 has also built up a good show reputation and won the Grand Champion Quebec International R&W Show 2006.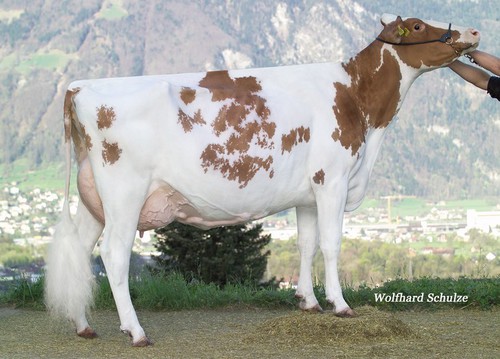 Granddam of Jodie 1 EX-91: Fradon-WL SS Jodie Red EX-94 (s. September Storm)
A young cow we recently wrote about is Southland Jacob Dellia, the Junior Champion Spring Show Etten-Leur 2022. The not yet classified first lactation Cycle Doorman Jacoby van Van Beek managed to get a promising score of VG-88 with MAX VG-89 FR & DS!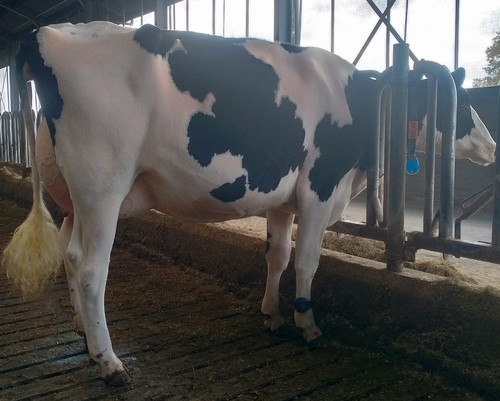 Southland Jacob Dellia VG-88 (s. Cycle Doorman Jacoby) Picture: Van Beek
From the cow family of Savage-Leigh Bellwood Linda EX-92, Southland Holsteins owns the second calver Southland Solo Lucy (by Walnutlawn Solomon). This Solomon is scored VG-88 now. Foundation dam Linda EX-92 is besides the dam of Lucy VG-88 her 5th dam - Petinesca-I Durham Ladina VG-89 - also the dam of Savage-Leigh Licorice EX-92 - the Intermediate & Reserve Grand Champion NY Spring Show 2004.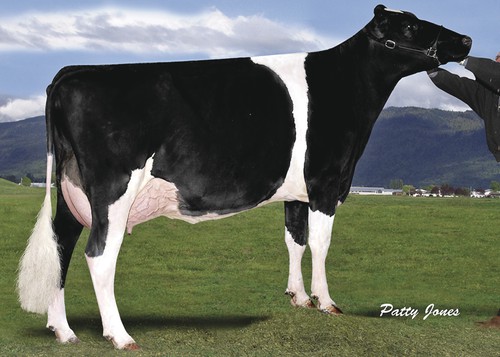 Petinesca-I Durham Ladina VG-89 (s. Durham)
| | | | | | | | | | |
| --- | --- | --- | --- | --- | --- | --- | --- | --- | --- |
| Name | Sire | Dam | Col | Lact | FR | DS | MS | FL | TOT |
| Jodie 1 | Mr Brash | Jody | B | 3 | 91 | 91 | 91 | 90 | 91 |
| Darling  | Defiant RDC | Darilya 1 VG-87 | B | 3 | 88 | 90 | 91 | 86 | 89 |
| Solo Lucy | Solomon | Dorcy Lucy VG-86 | B | 2 | 89 | 89 | 88 | 87 | 88 |
| Jacoby Dellia | Jacoby | Apple Dellia RDC VG-86 | B | 1 | 89 | 89 | 88 | 87 | 88 |
| Fitz Sharon 77 | Fitz | Ruby Sharon 49 EX-90 | B | 1 | 86 | 85 | 88 | 87 | 87 |
| House Dellia | House | Mvp Dellia 674 EX-90 | B | 1 | 86 | 87 | 89 | 84 | 87 |
| Spike Sharon | Spike | Alex Sharon 23 VG-86 | B | 2 | 87 | 88 | 88 | 81 | 86 |
| War Massia 90 | onb | Pitt Sharon33 VG-85 | B | 1 | 88 | 87 | 85 | 86 | 86 |
| ALH Camile | King Doc | Arch Camomille nc | B | 1 | 85 | 86 | 86 | 82 | 85 |
| Cal Sharon 81  | Casper | Baily's Sharon  VG-86 | B | 1 | 84 | 82 | 87 | 84 | 85 |