Multiple bull dam Poppe Fienchen 1569 Red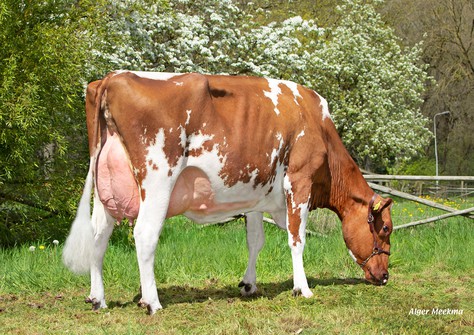 General
Poppe Fienchen 1569 Red VG-85, by Wilder Born P RDC
The now third lactation Wilder Born P Rdc daughter Poppe Fienchen 1569 Red has already an impressive career up to now. With more than 20 offspring, three sons in AI and a lifetime production of 41,596 kgsM with 4.54% fat and 3.64% protein, she is one of the icons of Poppe Holsteins!
With the strong Poppe Fienchen 580 RDC VG-89 as her foundation dam, there is an impressive pedigree behind the early VG-85 points Born P RDC. Her dam, Poppe Fienchen 1134 RDC GP-84, is also dam of proven sire Poppe Frisk Red (Pace-Red) and her granddam by Danillo deliverd daughterproven sire Poppe Efrain. With several bull dams in a row, the bar is set high for Fienchen 1569 Red to follow in her dams' footsteps.
The fact that the genomics profile of the red Fienchen 580 RDC offspring was completely flawless and she tested high in several systems, were the reasons that Poppe Fienchen 1569 Red was flushed several times as a heifer. Her male offspring attracted the attention of AI stations immediately after being born, including the former popular sire of sons Poppe Freestyle-Red (150 gRZG/ 281 gNVI) and his successful maternal brother Poppe Flight Red (152 gRZG / 282 gNVI)!
Fienchen 1569 Red has delivered more promising descendants. Like her granddaughters Poppe Fienchen 2209 Red (Augustus P Red x Swingman Red), testing 156 gRZG at 1.5 years, and also the polled Poppe Fienchen 2342 P Red, Cartoon P Red x Yeti RDC, scoring high with 153 gRZG.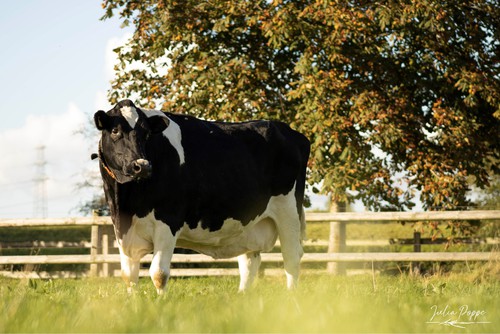 Poppe Fienchen 580 RDC VG-89, great granddam