Mark the date: Open barn and Koepon Summer Sale!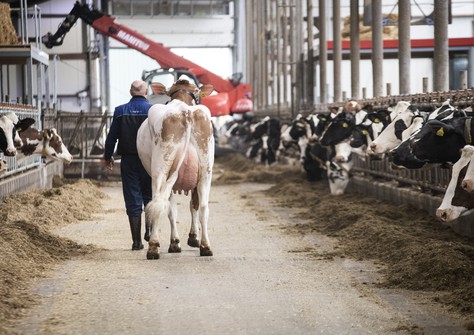 On Thursday June the 29th, the 'Slim Boeren Event' will take place at the Koepon dairy farm. From 10.00 AM to 4.30PM, the staff opens the doors for you to visit their farm. The dairy farm, which was started more than 50 years ago by Mr. W.N. Pon, has now grown into a business with more than 400 dairy cows, more than 270 young stock and 50 young bulls. Since November 2022, the cows are being milked with six robots. Curious about this robotic switch and want to learn more about this top genetic herd? Come visit them on June 29th!
In addition to the open barn event, Koepon also offers the opportunity to expand your herd with the best cow families that this herd has to offer! On Friday June 30th at 2.00 PM the Koepon Summer Sale will take place, where more than 20 heifers will be auctioned online. Think of Red- and Holstein offspring from top families such as Koepon Classy, Des-Y-Gen Planet Silk, Golden-Oaks Mark Prudence, Rilara Mars Las Ravena and Glenridge Citation Roxy. Thé unique opportunity to bring offspring into your barn from, among others, the 'Global Red Impact Cow of the Year': Lakeside Ups Red Range VG-86!  In addition to the program of Thursday June the 29th, Koepon will offer you the opportunity to come and see the sale heifers this day.
Koepon Summer Sale Schedule
Wednesday June 28th at 9.00 AM: Start Pre-bidding
Thursday June 29th from 10.00 AM: Open Barn and possibility to check out the sale heifers
Friday June 30th at 2.00 PM: Start of the final sale.
This sale is organized online via FarmersBid. Keep an eye on our website and social media for more information and the upcoming sale catalogue.
Slim Boeren Event on June 29th:
10.00 AM Opening by W.N. Pon
11.00  AM Presentation Koepon
01.30 PM Presentation Lely Sphere
03.30 PM Presentation Koepon
Address:
Koepon Genetics
Torensmaweg 2
9892 TD Feerwerd
The Netherlands
Check out Koepon's breeder page.