Meet the well uddered and great transmitter Schuit Solana P Red!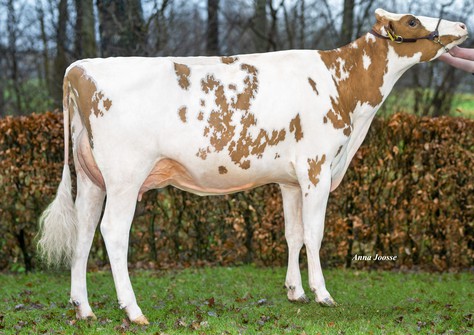 General
Schuit Solana P Red / 150 RZG (s. Caudumer Solitair P Red)
The cow family of the French Radieuse EX-91 has become a true concept within European Holstein breeding over the years. After the first red offspring, the first polled offspring soon joined this pedigree. One of these examples is the now lactating Schuit Solana P Red!
Key to the birth of Solana P Red was her red factor dam, Royal Flash RDC, which was bought into The Netherlands for Caudumer Holsteins. With Styx Red x Silver x Chevrolet x Man-O-Man x Goldwyn, Haytema had an outcross pedigree for Red Holsteins brought to his herd. Flushes with, at the time popular sire fo sons, Gywer RDC and their home bred Caudumer Solitair P Red produced high, red and also polled offspring for Haytema and buyers of embryos. Examples of these are Caudumer Royal Flash 3 P Red (152 RZG/2600 TPI) at De Oosterhof, RUW Ronja Red (152 RZG) in Germany and also this Schuit Solana P Red with 150 RZG.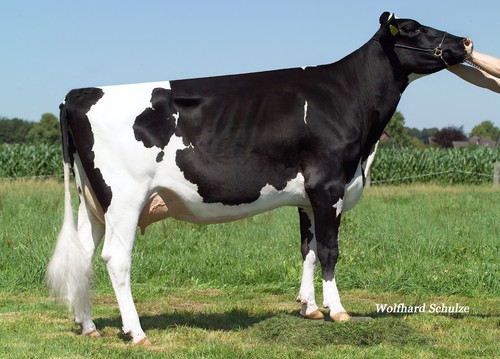 KNS Riviera VG-86 (Goldwyn x Radieuse EX-91)
Schuit Solana P Red by Solitair P Red was born at Schuit Holsteins and immediately stood out because of her first German genomics result of 163 gRZG with 148 gRZM and 124 gRZE. The fact that this result was very high in combination with her interesting pedigree, meant that Solana P Red was soon purchased by Siepermann and GenHotel. After her promising RZG, the high Solitair P Red offspring was also tested in France, UK, Italy and Spain where this daughter of Royal Flash RDC also came out well!
Solana P Red was after she switched hands housed at De Wijde Blik Holsteins. There she was successfully flushed and these flushes resulted in more than 20 offspring. One of her daughters can even be found in the top 50 R&W gNVI with 377 gNVI! In October 2022, Solona P Red freshened and is projected at 9,458 kgM with 4.08% fat and 3.45% protein.
Recently one of her daughters, 3STAR SIE Sila P Red (by GHH Frisbee RDC), was sold at the HighlightSale and at the upcoming SonderKollektion even the 162 gRZG & 357 gNVI scoring 3STAR SIE Sharon Red (by Delta Cartoon P-Red) will sell. Sharon Red is the highest RZG daughter out of the beautiful Solana P Red, so strike at February the 3rd!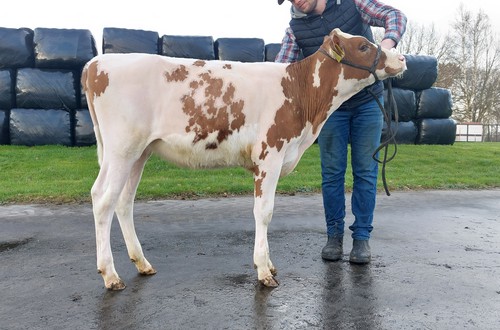 3STAR SIE Sila P Red (Freestyle Red x Solana P Red)