Showdivas at New Moore Holsteins awarded with Excellent!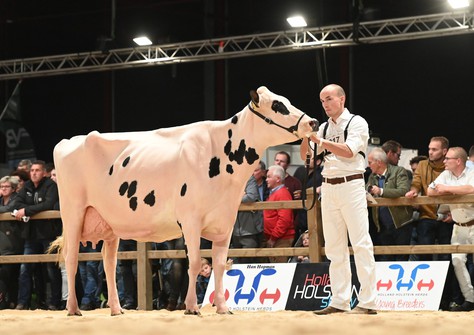 General
New Moore Novo Esmeralda 102, now EX-90!
Not one, but no less than two show divas from the New Moore Holsteins herd recently welcomed the excellent committee of the Dutch herdbook. Both cows managed to put New Moore Holsteins again on the map by show successes both nationally and regionally in the fall of last year.
New Moore Novo Esmeralda 102, Progenesis Novo daughter of the well-known figurehead New Moore Esmeralda 38 EX-92, delivered a Stantons Alligator heifer calf in August 2022 and achieved a peak production of almost 50 kgs milk per day. Her lactation stage made Esmeralda 102 the perfect candidate to compete in the national HHH Show last November. Here the Novo daughter achieved the 3rd position in the B&W Senior Class. With a score of EX-90 and EX-91 MS, Esmeralda 102 is now one of the four Esmeralda 38 daughters with an Excellent score!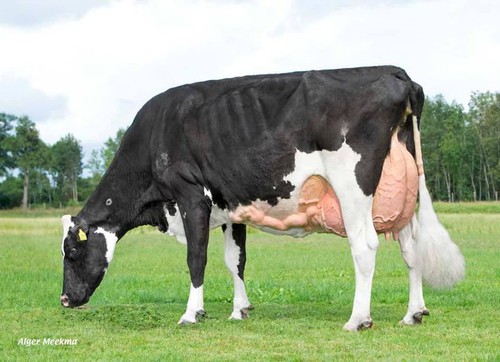 Dam New Moore Esmeralda 38 EX-92 (s. O Man)
The red New Moore Tedbull Maria 463 Red, Intermediate Res. Champion Zuidwesthoek 2022, also managed to significantly increase her 2-yr-olds score of VG-88. After her fantastic show debut at the end of last year, the moment for a re-classification came for one of the few R&W females in the New Moore herd. This resulted in an aweseome EX-90! The De Rith Tedbull daughter from the homebred Maria family is projected at 10,589 kgs of milk with 4.15% fat and 3.51% protein.
With these two new excellent scores, the total of excellent cows owned/bred by New Moore Holsteins comes to no less than 44!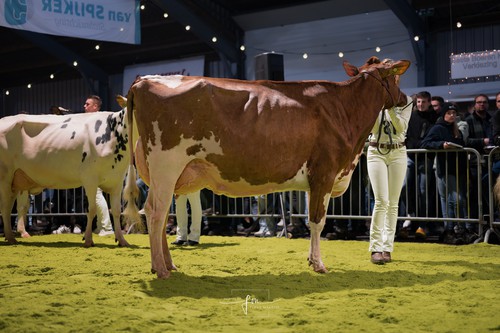 New Moore Tedbull Maria 463 Red now EX-90!