Meet the 2864 TPI scoring Pursuit 2-yr-old 3STAR OH Minka!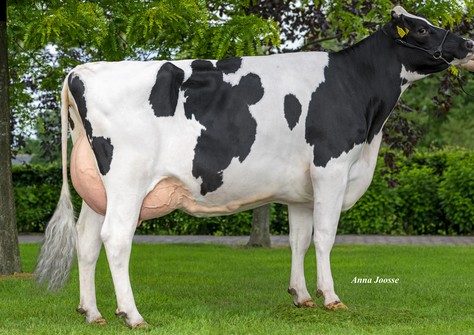 General
3STAR OH Minka (s. Pursuit)
The very fancy first calver 3STAR OH Minka was recently captured on camera. The two-year-old Pine-Tree-I Pursuit daugher out of the well-known donor K&L OH Mirror is a result of the 3STAR Embryo Program and is housed and milked at Beerzedal Holsteins.
3STAR OH Minka (by Pursuit) was flushed a few times as a young heifer and thus some matings delivered several high-scoring offspring. One of her daughters is the 2928 gTPI scoring Beerzedal 3STAR Minka 2, by Pine-Tree Kashi. Through her dam K&L OH Mirror (by Rubi Agronaut) Minka comes from the Roylane Socra Mira 1760 EX-91 family, which is known for transmitting high gTPIs.
Minka's granddam is even the number two gTPI 04-2018 in the USA! This trait makes this cow family also in demand for breeding AI bulls. One of the most famous sires from this line is S-S-I Montross Duke (Montross x Supersire). The bulls Plain-Knoll King Royal and Plain-Knoll Jaguar also come from the same family. Mirror herself bred a high scoring ABS Crimson son - maternal brother of Minka - which is purchased by Genus/ABS.
Minka is still testing 2864 gTPI, is A2A2 and also performs very well based on her milk production, which is currently projected at 10,638 kgsM with 4.89% fat and 3.34% protein!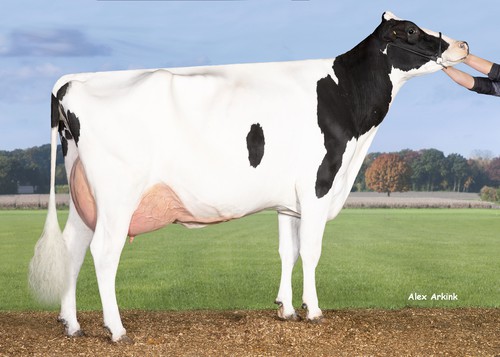 Dam: K&L OH Mirror GP-82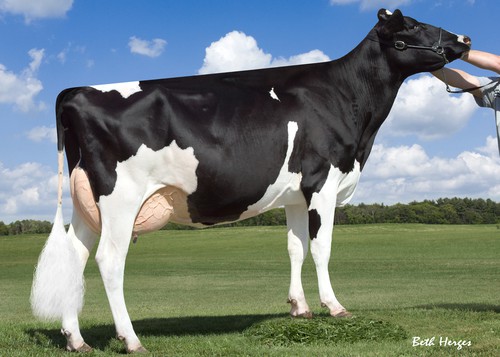 Roylane Socra Mira 1760 EX-91 (s. Socrates), 4th dam of Minka