Fantastic round of scores for 2-yr-olds Willem's-Hoeve
The classifier scored seventeen 2-year-olds at Willem's-Hoeve Holsteins with an average of VG-85.2! For 6 young dairy cows, the time has come for some new scores, up to VG-89. The average score of this day came to a stunning VG-86.0!
Highest score for the first calvers was for Willem's-Hoeve Rita 2335, a Walnutlawn Sidekick grand daughter of NRM 2012 Junior Champion Willem's-Hoeve Rita 579 EX-91. With VG-88 and a maximum score of VG-89 for Frame and Mammary all eyes were on her. In addition to the high scored dams, this line also bred daughter proven bulls. For example, the  silky black Superstition son Shirocco with 1538 milking daughters in Germany. He is the maternal brother of Rita 579 EX-91.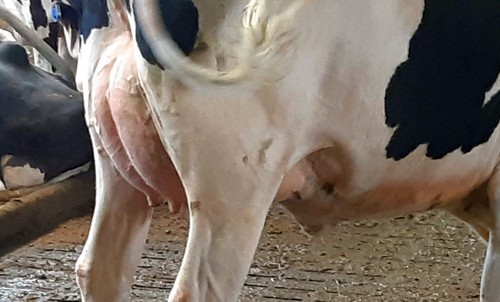 VG-89 Mammary of Rita 2335 VG-88 s. Sidekick!
Also from the Rita's a W-H Javick-daughter, a result from double Willem's-Hoeve breeding, Willem's-Hoeve Lafay 2341 classified VG-87. Via VG-86 Solomon x VG-86 Yorick she also descends from Willem's-Hoeve Rita 156A VG-88, dam of Rita 579 EX-91 and Shirocco. First lactation Silver Willem's-Hoeve Rita 2316 scored VG-87 with VG-88 Frame. The great-granddaughter of Willem's-Hoeve Rita 331 VG-89 - dam of sires Willem's-Hoeve R Browning & Willem's-Hoeve R White Moo - is projected at 8,790 kgs of milk with 4.77% fat and 3.64% protein.
The second calver Willem's-Hoeve Rita 2147 is with VG-89 the 9th generation in a row with VG/EX! She is also a granddaughter of the EX-91 Sanchez via a VG-87 Acme. Ria 2147, a Croteau Lesperron Unix, is projected to produce 10,887 kgs of milk with 4.49% fat and 3.42% protein.
Sired by Mr Danielle Devour RDC, Willem's-Hoeve Rita 2051 RDC classified VG-89 with EX-91 Dairy Strength! This second calver Rita RDC (Devour RDC x VG-85 Pitbull x VG-89 Jerudo x VG-87 Mr Burns RC) comes from the same, red Rita branch as bull Willem's-Hoeve Dekade-Red (by Destry RDC) and the no. 1 Dutch R&W production cow of 2019: Poppe Red Hot Rita 860 VG-87.

Willem's-Hoeve Rita 579 EX-91 (s. Sanchez) NRM 2012 Junior 2-Yr-old Champion
From the high producing Rita line of Willem's-Hoeve Rita 434 VG-86 (by Goldwyn), Willem's-Hoeve Rita 2235 (Tatoo x McCutchen) managed to achieve a score of VG-87 (VG-88 MS). Dams from this line easily manage a first 305-day list of 11,000 kgs of milk!
Upcoming bull dam Willem's Hoeve Rita 2340 (308 gNVI & A2A2), is a milking 2-yr-old by Midwolder Martin. She is a direct daughter of the well-known Jetset daughter Willems-Hoeve Rita 1626A VG-86 who, among other things, grew into an important embryo donor due to her attractive transmitting profile. One of her sons, Willem's-Hoeve Steyr (full brother Rita 2340) already left for AI. Rita 2340 freshened just one month ago but was already classsified VG-86 (VG-88 MS); a fantastic young cow that we will hear more about!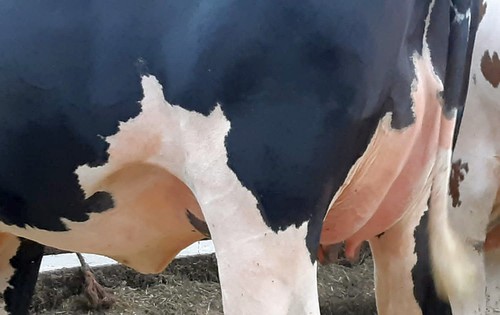 VG-88 Mammary of Rita 2340 VG-86!
| | | | | | | | | | |
| --- | --- | --- | --- | --- | --- | --- | --- | --- | --- |
| Name | Sire | Dam | Col | Lact | FR | DS | MS | FL | TOT |
| Rita 2147  | Unix | Rita 1736 EX-90 | Z | 2 | 87 | 88 | 89 | 88 | 89 |
| Rita 1947  | Kingpin | Rita 1445 RF GP-84 | Z | 3 | 89 | 90 | 88 | 88 | 89 |
| Rita 2051 RDC | Devour RDC | Rita 3195 VG-85 | Z | 2 | 88 | 91 | 89 | 87 | 89 |
| Rita 1910  | Diamondback RDC | Rita 1455 Xl VG-85 | Z | 3 | 91 | 89 | 88 | 88 | 89 |
| Rita 2335 | Sidekick | Rita 1507 GP-83 | Z | 1 | 89 | 86 | 89 | 87 | 88 |
| Rita 2077  | Doorman | Rita 0463  VG-86 | Z | 2 | 88 | 89 | 85 | 86 | 87 |
| Lafay 2341  | W-H Javick | Lafay 1880 VG-86 | Z | 1 | 87 | 86 | 87 | 87 | 87 |
| Rita 2316 | Silver | Rita 1876 VG-89 | Z | 1 | 88 | 86 | 86 | 87 | 87 |
| Rihanna 2140  | Solomon | Rita 6120 VG-88 | Z | 2 | 86 | 89 | 88 | 84 | 87 |
| Rita 2235 | Tatoo | Rita 1637 GP-84 | Z | 1 | 87 | 88 | 88 | 86 | 87 |
| Rita 2400 | Jordy-Red | Rita 1985 VG-88 | R | 1 | 85 | 84 | 88 | 84 | 86 |
| Rita 2338  | Atwood | Rita 0463  VG-86 | Z | 1 | 83 | 84 | 87 | 87 | 86 |
| Rita 2340 | Martin | Rita 1626A VG-86 | Z | 1 | 87 | 85 | 88 | 84 | 86 |
| Rita 2347  | Impression | Rita 1161 | Z | 1 | 88 | 86 | 83 | 88 | 86 |
| Rita 2324  | Crushtime | 1904 n.c. | Z | 1 | 84 | 84 | 89 | 84 | 86 |