Meet Lakeside Ups Red Range VG-85!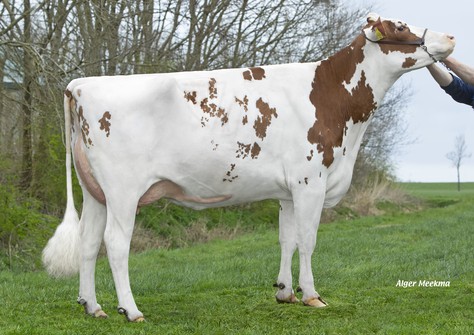 General
Lakeside Ups Red Range VG-85/VG-88 MS, phenomenal brood cow!
Shortly after Lakeside Ups Red Range (by Mr Salvatore RDC) was fresh from her first calf, she was classified with a total score of VG-85 and VG-88 for her mammary system. During her first lactation she has developed into a really nice cow, which is confirmed by her recently taken, beautiful photo!
Lakeside Ups Red Range VG-85/VG-88 MS (bred by Lakeside and Upstream Holsteins) was purchased as a young heifer by Koepon Genetics at the GenHotel Selection Sale in December 2017. They saw the tremendous potential of this Mr Salvatore RDC x De Oosterhof Dg Rose RDC VG-87 and purchased her. At that time she was the #1 gTPI Red Holstein in Europe. Already then, this red-and-white descendant from the Golden-Oaks Mark Prudence EX-95 family scored 1430 lbs milk, +9.6 PL, 2.63 SCS and +3.4 DPR! She now lives up to these standards at the age of 2.5 years:
  • 305-days production of 9.562 kgs, 4.37%F & 3.38%P
  • 54 male & female offspring
  • Average cellcount of 28.6 over 219 days in lactation
In the meantime Red Range is the dam of 16 bulls in AI, yes you read it correctly: 16! One of these bulls is even the number 1 gTPI globally 3STAR OH Ranger-Red (2897 gTPI / 3910 gLPI & 4113 Pro $), now owned by Semex. Ranger-Red writes history and is the first Red Holstein sire, who is higher than all black-and-whites young sires and the chart topper in Canada! Also on the American base he is the mondial number 1 gTPI Red Holstein sire!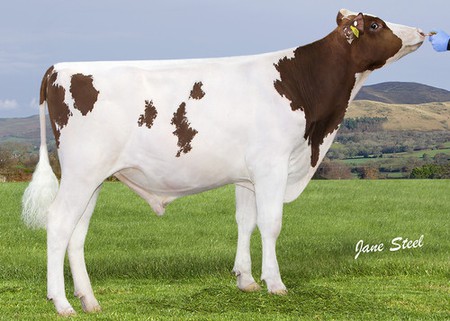 Son: Koepon OH Ryder Red (s. Rubels-Red)  @ABS Global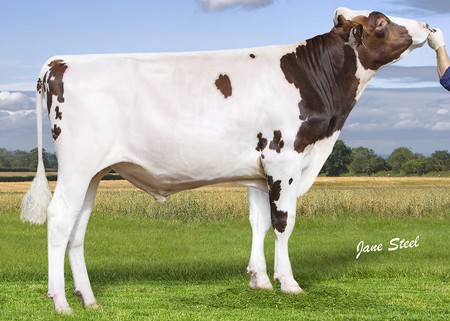 Son: Koepon Ritzy Red (s. Swingman-Red) @ABS Global
Not only her male offspring ranks skyhigh, also her female offspring score in the top in multiple systems. All the more reason to flush the highest daughters of Red Range VG-85. Right now there are several 3STAR Embryo Program combinations available from full sisters of 3STAR OH Ranger-Red:
​ • 3STAR OH Red Rose x Drouner K&L Augustus P Red [SEX] 
 • 3STAR OH Red Rose x Aquila Stardancer
 • 3STAR OH Rosy Red x Aprilday Ron Trumpet-Red
​Furthermore, embryos of Lakeside Ups Red Range VG-85 her maternal sister are for sale. Strike now with: Sudena Rosa Red x Star P RDC