Lindenhof: Pictures HLB Detroit and Daggi
Attached are the pictures of HLB Detroit and her dam Sandy-Valley Fred Daggi VG-85. Detroit is an VG-86 classified Headliner daughter with offspring sired by Icone, Powerball P, Damaris and Emerich. Her dam is a Freddie daughter of Sandy-Valley Sho Sonador VG-88 (Shottle x VG-87 Blitz x VG-88 Bellwood (granddam to Bolton) x Ricecrest Southwind Kaye VG-87) and thus a full sister to PBCD FD Sina. Sina is the dam to the high genomic bulls Background and Sinus.
The most interesting heifers from this family at Lindenhof Holsteins are HLB Damaria (+2426 GTPI) and HLB Damara (+153 GRZG).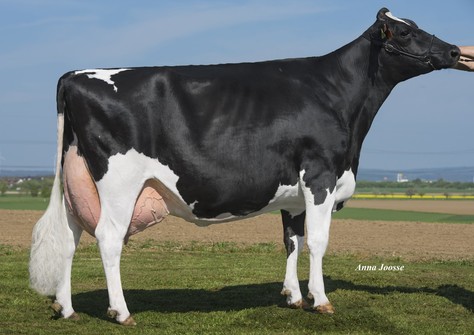 Sandy-Valley Fred Daggi VG-85