K&L Poppe Dellia 8497 VG-87, an impressive cow from the 3STAR Breeding Program!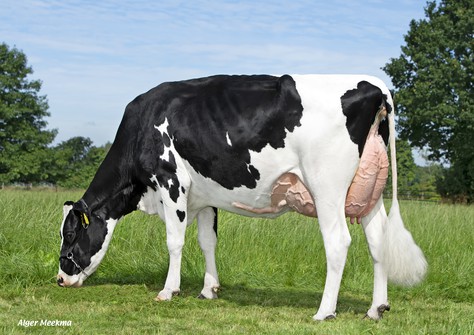 General
K&L Poppe Dellia 8497 VG-87 (EX-90 MS)
Last week beautiful pictures of the third lactation SPH Cyrano daughter K&L Poppe Dellia 8497 popped up in our mailbox. Dellia 8497 is bred by Poppe Holsteins and GenHotel through the 3STAR Breeding Program. She is co-owned with VMO Holsteins (Veenhouwer-Mulder) where she recently is photographed.  
As her name suggests, the Cyrano daughter hails from the Southland Dellias, an influential cow family with roots at the Dutch Southland Holsteins. The Dellias are known for their enormous will to produce, fantastic type and high indexes. This is also proven by K&L Poppe Dellia 8497 VG-87 (EX-90 MS), because she is not only the 14th generation VG/EX in a row, but is also projected at 11,458 kgsM in 305 days!
Dellia 8497's granddam K&L SG Dellia VG-86 (by Shotglass), was purchased as an embryo by GenHotel. The Shotglass showed high indexes in several systems at the time and grew into a big producer with a 305 days production of 17,915 kgsM with 4.30% fat and 3.18% protein in her second lactation. Due to her enormous potential, several embryos were sold via the GenHotel Embryo Program. Through the program De Wijde Blik and BWN Holsteins own several offspring from this branch. From the cooperation with BWN Holsteins a full sister named BWN K&L Betty was born. She is the dam of BWN K&L Sambesi purchased by RUW - he is just one of the many AI bulls from the Dellias. VMO Holsteins has two heifer calves from the Cyrano sired by Delta Endless RDC (VMO Endless Dellia RDC) and Delta Podcast.
Participate in the 3STAR EmbryoProgam? Click for more info.

K&L Poppe Dellia 8497 VG-87 (s. Cyrano)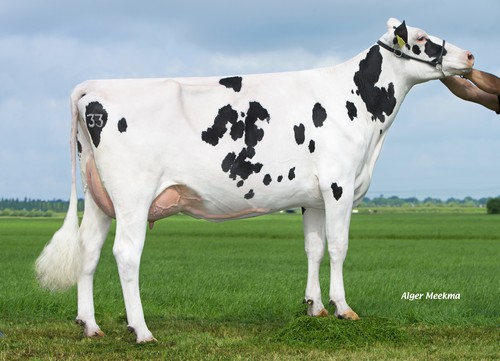 Granddam: K&L SG Dellia VG-86 (s. Shotglass)

3rd Dam: Southland Dellia 9765 VG-86 (s. Man-O-Man)