High scoring Stone-Front Artist daughter PR Darlina 2!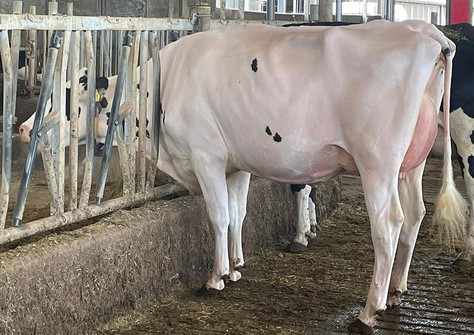 General
PR Darlina 2, scored VG-88 (2-yr-old). Photo: Schep Holsteins
The snow-white Stone-Front Artist daughter PR Darlina 2 received a stunning first score. With this great score Piet van Rees (PR Holsteins) has bred the 11th generation VG/EX from the Snow-N Denises Dellia EX-95 family!
PR Darlina 2 calved in February from a Peak Tropic heifer calf at Schep Holsteins, where many of Van Rees'  animals go to before their due date. The 305-days lactation of this PR Darlina VG-89 daughter is projected at 9.510 kgs of milk with 4.11% fat and 3.14% protein. Dam Darlina VG-89 also calved in February (for the third time) and produced already 30,564 kgs of milk in 807 days sofar.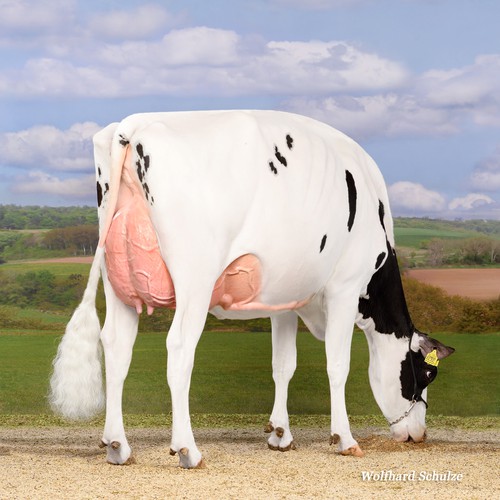 Dam: PR Darlina VG-89 (s. Webb-Vue Spark 2060)
During the classification day, this Stone-Front Artist was classified 87 FR - 88 DS - (MAX) 89 MS - 87 FL - VG-88. Although Artist (Crush x EX-92 McCutchen) has already 45 MILKING daughters (4-2022) in the Netherlands/Flanders, Darlina 2 is the highest scored Artist daughter in both countries now.
Granddam PR Darla EX-90 (Mountfield Ssi Dcy Mogul x Future Dream H. Darina EX-90) already stole the show at the national HHH Show in 2019 with a first place and best udder in her Intermediate class.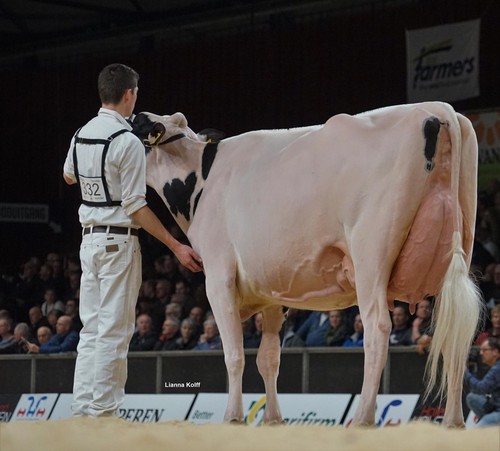 Granddam: PR Darla EX-90 (s. Mogul)