High ranking Javina's at the Willem's-Hoeve
Genomics
De Biesheuvel Javina 19 VG-88 (s. Bolton)
Sandy-Valley Bolton daughter De Biesheuvel Javina 19 was for a long time the number 1 gNVI Bolton daughter of Flanders and the Netherlands. She transmits her high genetic potential tremendously to her daughters, which were also in the elite regions of the NVI top lists. Even now, generations later, Javina 19 still leaves a strong mark on her descendants!
De Biesheuvel Javina 19 was bred from O-Bee Manfred Justice daughter De Biesheuvel Javina 3 VG-87, which via VG-88 Dustin x VG-85 Webster x VG-85 Branco x VG-87 Jabot x VG-86 Mascot x GP-81 Blackstar x VG-87 Chief Mark x VG-87 Neil x VG-87 Job descends from Plushanski Chief Faith EX-94. This impressive cow family has delivered many proven bulls in AI, including Big Gospell and Delta Magister. The Bolton freshened at the age of 2.06 yr and was purchased by Willem's-Hoeve Holsteins (De Jong) & GenHotel. In her first lactation, the very fancy Bolton was already classified VG-87, in her second lactation she was able to increase her score to VG-88!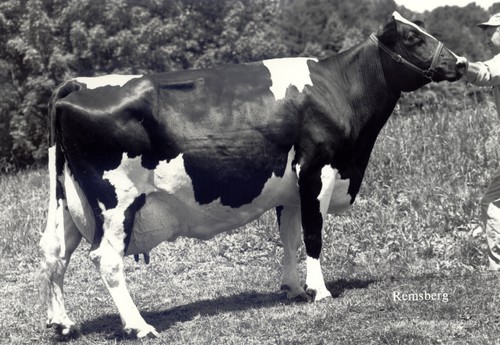 Plushanski Chief Faith EX-94, foundation cow that delivered several offspring in the 80s due to ET,
and achieved a lifetime production of 88,792 kgs of milk with 4.50% fat.
Meanwhile, the Javina family still plays a major role in De Willem's-Hoeve and GenHotel's breeding program, but also the Chief Faith family became a significant part of the Hedra Holsteins and Big Holsteins herds! Not only numerous bulls are sold to different AI studs throughout Europe, also female offspring scores fantasticly high on gNVI & gRZG! For example, the De Jong family and GenHotel have been working for years on a very strong index line. One of the most recent successes is Willem's Hoeve 3STAR Javina 2762, a Peak Nexus x Willem's Hoeve K&L Javina 2314. This Javina 2762 tests no less than 169 gRZG with 2937 RZ€, 135 gRZS and 126 gRZE! Her dam, by Siemers Charley Merryguy, will soon be fresh in her first lactation.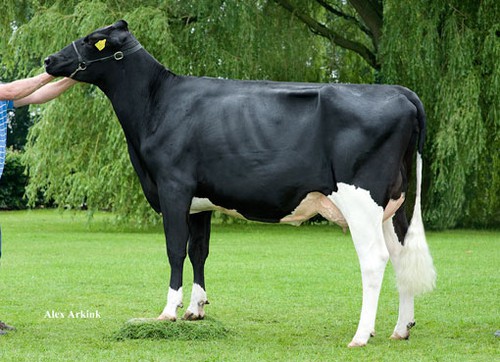 De Biesheuvel Javina 50 VG-87 (s. Gofast), 5th dam of the 169 gZRG Nexus