Great round of scores at De Wijde Blik!
General
De Wijde Blik Marien raised her score!
The Nijman family of De Wijde Blik can once again be proud of the classification scores of a group of their 2-yr-olds and milking cows.
Starting with the second calver Domicole Chelios De Wijde Blik Marien: As a 2-yr-old she already was scored VG-88. Marien, a descendant of the in the showring very successful Marie cowfamily, managed to boost her score during this visit to VG-89 with EX-90 MS and EX-91 DS! De Wijde Blik Marthe, a fourth lactation Sabbiona Goldfarm maternal sister of Marien VG-89, is also reclassified this round with VG-88 (EX-90 MS). Their Cervi Woodstock dam, Marie 389 VG-89, is in 8th lactation now, still present at Nijman and has a current lifetime production of 81,027 kgs of milk with 4.43% fat and 3.31% protein.
From the same Marie cow family, De Wijde Blik Masabi, a Scherma Blooming Biver granddaughter of De Wijde Blik Marin VG-88, achieved a score of VG-87 with MAX VG-89 FR as a 2-year-old. 
From Nijman's renown De-Su Dorcy Moonboy daughter De Wijde Blik Jolein 5 EX-90, a fourth calver Big Malki is being milked - De Wijde Blik Jolein 7. This dairy cow not only produces a lot of milk, but is also getting better and better during each lactation. She increased her score to VG-89 with EX-92 DS!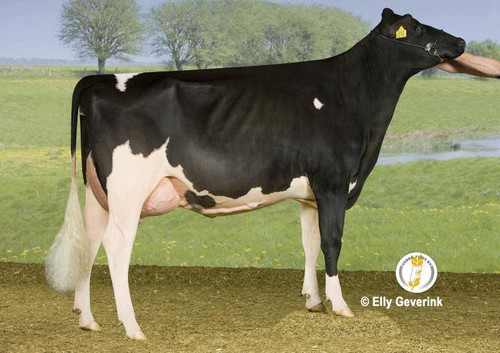 De Wijde Blik Jolein 5 EX-90 (s. Moonboy)
Not only De Wijde Blik Marien VG-89 is recently captured on camera, also De Wijde Blik K&L Pipa 2 VG-86 (by Bellwether) - co-owned with GenHotel - got a chance to shine. Pipa 2 comes from the glorious QHR Perle VG-86 line, out of the Golden-Oaks Mark Prudence EX-95 family. Her 305-day production is projected at 9,462 kgsM with 4.59% fat and 3.69% protein.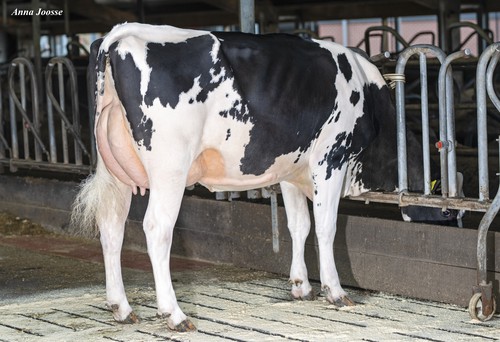 De Wijde Blik K&L Pipa 2 VG-86 (Bellwether x VG-86 Concert x VG-85 Background)
| | | | | | | | | | |
| --- | --- | --- | --- | --- | --- | --- | --- | --- | --- |
| Name | Sire | Dam | Col | Lact | FR | DS | MS | FL | TOT |
| Jolein 7 | Malki | Jolein 5 EX-90 | B | 4 | 90 | 92 | 85 | 91 | 89 |
| Marien | Chelios | Marie 389 VG-89 | B | 2 | 89 | 91 | 90 | 87 | 89 |
| Marthe  | Goldfarm | Marie 389 VG-89 | B | 4 | 87 | 87 | 90 | 86 | 88 |
| Masabi | Biver | Merah n.c. | B | 1 | 89 | 88 | 85 | 87 | 87 |
| Marlieke | Bagolino | Marie 346  | B | 5 | 84 | 86 | 92 | 83 | 87 |
| K&L BZ Nelya | Benz | Nelize 8 VG-87 | B | 2 | 83 | 87 | 89 | 83 | 86 |