KHE I'm Good VG-87 marks her offspring
General
K&L Poppe Goody VG-86, Soundcloud x I'm Good VG-87, sister of San Remo and Sanchez P RDC at VOST
The success story started with the purchase of KHE I'm Good during the VOST Select Sale in 2017. At that time, Poppe Holsteins & GenHotel saw already the enormous potential of the young Boldi V Gymnast daughter. The Gourmette EX-92 descendant attracted enormous interest because of her 165 gRZG with 145 gRZE!
It soon became clear that KHE I'm Good, partly due to the embryo contracts with a total value of € 14,000, had the potential to grow into a bulldam with international possibilities. Once the flushable age was reached, the Gymnast was flushed to former sire of sons such as Solitair P Red, Durable, Starello RDC and Soundcloud. These turned out to be great matings, because the offspring of I'm Good also ranked high in several systems. The sons Poppe K&L Sanchez P RDC (s. Solitary P Red) and Poppe K&L San Remo (by Soundcloud) attracted the attention of sire analysts after their genomics results came in. It didn't take long before these maternal brothers were purchased by the German KI station VOST. San Remo is now even with 224 gISU the number 3 genomics young bull in France! 
| | |
| --- | --- |
| | |
| Poppe K&L Sanchez P RDC (147 gRZG, 132 gEUT) | Poppe K&L San Remo (148 gRZG, 132 gEUT) |

Now, the first daughters of the - in her first lactation with VG-87 (MAX VG-89 MS) classified - KHE I'm Good are in first laction and seem to be an image of their beautiful and tremendously producing dam! Recently K&L Poppe Goody, full sister of San Remo @VOST, was already classified VG-86! Out of Goody, Poppe & GenHotel bred Poppe 3STAR Gilina by Palmer, which scores a stunning 155 gRZG. Another full sister, Poppe K&L I'm Happy VG-86, is now flushed a number of times in ordered to produce embryos for a French customer. 
All the more reason to have the next successful generation, in this case Goody VG-86, photographed!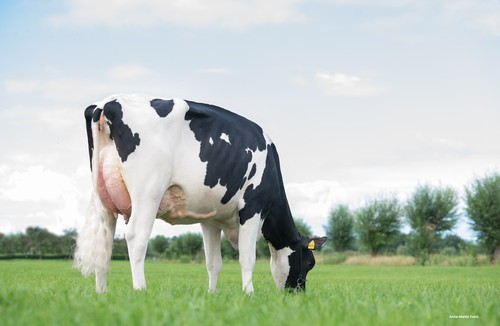 KHE I'm Good VG-87 (s. Gymnast) turns out to be a strong breeding cow that marks her offspring!