Dazzling VOST Select Sale 2021 purchase!
Sales
Prima Dona was sold to Verstappen in 2021, calved, was photographed and is classified since!
During the VOST Select Sale 9, in November 2021, the one-year-old King Doc daughter Prima Dona of the Dutch Van der Meer family was sold to a Dutch breeding enthusiast. The then +3.35 gPTAT scoring Prima Dona left for her new owner in December 2021, where she has now grown into a fantastic milking 2-yr-old.
The great Woodcrest King Doc comes from the Canadian cow family of Val-Bisson Shottle Imelda EX-94. Dona's third dam is the full sister of the still popular breeding bull Val-Bisson Doorman. Not only is Imelda EX-94 worldwide known as the dam of Doorman and Integral RDC, but the Shottle was also named Global Holstein Cow of the Year in 2017. The Shottle from foundation dam Val-Bisson Goldwyn Maya VG-88 (Canada Cow of the Year 2015)  is one of at least seven daughters from Maya which are scored excellent. One of the most recent score updates came from seven-year-old EDG Rubicon daughter Val-Bisson Rubicon Martha, which reached EX-91 (EX-94 DS) in the summer of 2022.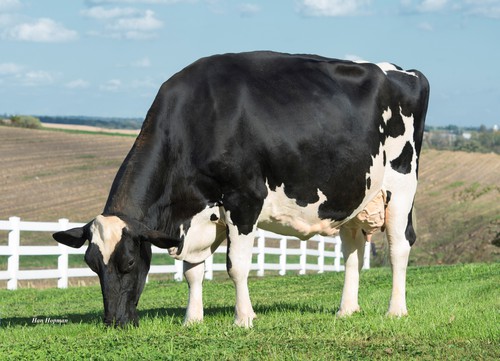 Val-Bisson Shottle Imelda EX-94
As a heifer Prima Dona has been flushed with sexed Lindenright Moovin RDC in order to supply the future of this cow family at Van der Meer, right before she left to her new owner. Dona was bred with the top gTPI bull Siemers TWN Parsly 32480, from which DV Dona 7728 was born in December 2022. After a good start of her first lactation, Imelda's King Doc offspring is projected at 9,945 kgsM with 4.06% fat and 3.31% protein in 305 days. An initial inspection also resulted in a great VG-87 with even MAX VG-89 MS. With Prima Dona's first classification of VG-87 with MAX VG-89 MS, the Maya cow family delivered at least its 10th generation of high scored cows in a row!
Dona's dam Prima Dolce VG-87 (by Undenied) is still present at Van de Meer and is currently in the dry pen to start on her third lactation soon. There are now more than 10 offspring from the top PTAT transmitting Undenied, including two Croteau Lesperron Unix daughters at the Swedish breeder Alsgårds Lantbruk. One of these Unix offspring is even the highest female PTAT Unix in Europe.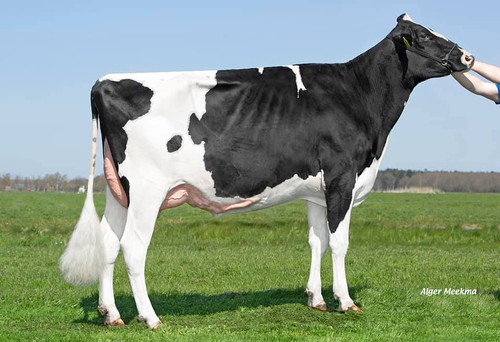 Dona VG-87's dam Prima Dolce VG-87 (s. Undenied)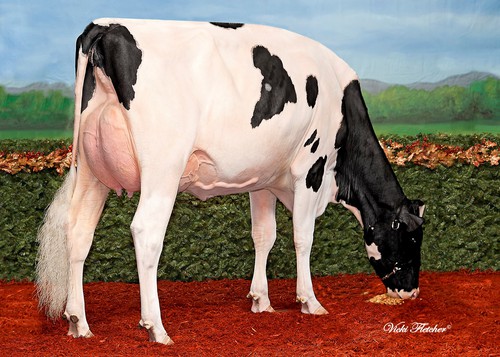 Val-Bisson Meridian Doriane VG-88 (Sully Hart Meridian x Val-Bisson Shottle Imelda EX-94)