Great offer at VOST Select Sale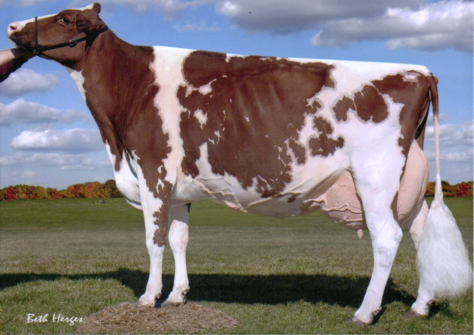 Genomics
Lavender Ruby Redrose EX-96
The VOST Select Sale (Friday, November 25) offers a great variety of lots including heifers with high genomics, great type and backed by the best cowfamilies of the breed.
A few examples
Lot 6: Polled & R&W Citation P x Lavender Ruby Redrose EX-96 family
Lot 13: Contrast x VG-86 McCuthen x VG-87 Goldwyn x Hanover-Hill Milan Regale EX-94 (Roxy family!)
Lot 17: RDC Sympatico x EX-90 Mac x EX-94 Atoom x Farmdale Intergrity Dixie EX-94
Lot 25: RDC Godewind x SD Miss Roseanne EX-91; Blackrose familie!
Lot 43: McCutchen x EX-90 Goldwyn x EX-94 Dundee x Penlow Georgette Outside EX-96
Lot 48: Doorman x EX-91 Fortune x EX-96 Stormatic x Tri-Day Ashlyn EX-96!
Lot 59: Bankroll x VG-86 Cameron x VG-88 Goldwyn x VG-88 Zenith x Gloryland Lana Rae EX-94; Roxy familie
Lot 60: Beemer x VG-86 Doorman x VG-88 Atwood x MS Kingstead Chief Adeen EX-94
Wilder Hindu
A very special heifer is lot 29: Wilder Hindu. This Jedi daughters hails trough daughters of Saloon, Snowman and Goldwyn out of Batke Outside Kora EX-94, the Junior 2-Yr Old Champion from the All-European Championship in Oldenburg 2006. Wilder Hindu combines a great pedigree and +2719 GTPI and is one of the most interesting lots in the VOST Select Sale 4.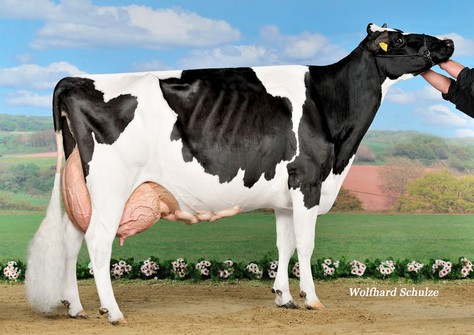 Batke Outside Kora EX-94, 4th dam to Wilder Hindu