Great classification VanHolland Holsteins
Great cowfamilies such as the VanHolland Rozalin, Metje and Bets family helped VanHolland Holsteins to achieve great herd-classification. 23 B&W 2-yr olds where classified 84.8 points on average and 3 R&W 2-yr olds acchieved 85.2 points. The herdaverage at VanHolland is now 84.8 points over 95 classified cows.
VanHolland Rozalin
At least 4 granddaughter of the great Ramos daughter VanHolland Rozalin VG-87 (Ramos x VG-86 BW Marshall x VG-85 Lord Lily x Tui Onyx Nick VG-86) where classified. VanHolland Riva 2 (Picanto x VG-86 Wonder x Rozalin) is classified VG-87 and VanHolland Roxette 1 (Stonewall x GP-84 Via Thelo x Rozalin) received VG-85.
fanatic daughter VanHolland Rochelle 1 is classified VG-87 and Bradnick half-sister VanHolland Rochelle 2 is classified VG-88. Their dam is VanHolland Rochelle VG-88, the Fancy Atwood daughter of Rozalin.
| Name | sire | Col | La | Fr | Ds | Ms | Fl | Tot |
| --- | --- | --- | --- | --- | --- | --- | --- | --- |
| Rochelle 2 | Bradnick | Z | 1 | 88 | 87 | 88 | 87 | 88 |
| Rochelle 1 | Fanatic | Z | 1 | 85 | 86 | 88 | 86 | 87 |
| Metje 111 | Jotan | Z | 1 | 87 | 86 | 88 | 86 | 87 |
| Bets 171 | Jotan | R | 1 | 86 | 86 | 86 | 88 | 87 |
| Riva 2 | Picanto | Z | 1 | 86 | 86 | 89 | 87 | 87 |
| Bets 174 | Dempsey | Z | 1 | 86 | 87 | 87 | 87 | 87 |
| Bets 175 | Acme | Z | 1 | 87 | 86 | 86 | 87 | 87 |
| Anke 132 | Brawler | Z | 1 | 84 | 87 | 88 | 86 | 86 |
| Metje 114 | Acme | Z | 1 | 86 | 86 | 85 | 87 | 86 |
| Sara 59 | Acme | Z | 1 | 87 | 85 | 84 | 84 | 86 |
| Tessa 10 | Dempsey | Z | 1 | 86 | 86 | 86 | 85 | 86 |
| Anke 127 | Glauco | Z | 1 | 87 | 84 | 85 | 83 | 85 |
| Metje 110 | Jotan | R | 1 | 83 | 85 | 87 | 83 | 85 |
| Anke 131 | Sid | Z | 1 | 84 | 86 | 88 | 82 | 85 |
| Tini 143 | Circuit | Z | 1 | 86 | 87 | 86 | 82 | 85 |
| Roxette 1 | Stonewal | Z | 1 | 86 | 85 | 83 | 86 | 85 |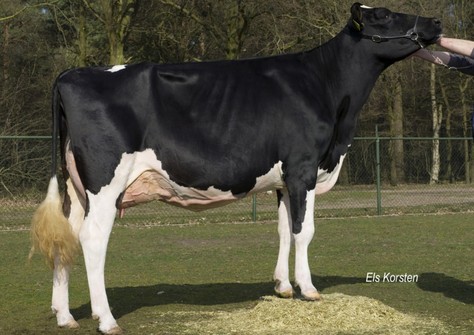 VanHolland Rochelle VG-88, dam to Rochelle 1 & Rochelle 2