List Sire of Sons is updated now!
Sires
Peak AltaZazzle: 3010 gTPI / 817 gLPI!
After the August 2020 proofs, GenHotel's team has updated the mating sire lists. Some mating sires have been removed from the lists, since they have been used sufficient, and have made way for fantastic debuting bulls. 
One newcomer on the Holstein list is Peak AltaZazzle [Marius x Topshot x Silver]. With a sky high gTPI of 3010 gTPI he stands head and shoulders above the others and on PLI basis he's second. For a mating with a polled and R&W sire the list has been expanded with Visstein K&L Money P Red [Match P RDC x Salvatore RDC x Nugget RDC], a great result of the successful cooperation between Visstein Holsteins and 3STAR Genetics. With 160 RZG and 264 NVI Money P Red will be used intensively in the next trimester. This also applies for RDC sire K&L OH Matty P RDC [Match P RDC x Salvatore RDC x Rubicon]. Matty P RDC also scores a neat 155 RZG and 264 NVI!
On the list with Red Holstein sires are some new additions too. For the newest Red Holsteins you can choose for example Sanderij Ginger-Red. Ginger-Red is bred by the Hietbrink family and has a nice paternal line: Gywer RDC x Salvatore RDC x Riverboy RDC. He did a fantastic job during the last proof run with 162 RZG and 253 NVI. Another addition is the American bull AOT Helium-Red with 2743 gTPI and 238 NVI. This Swingman-Red x Salvatore RC x Supersire belongs to one of the very first available Westcoast Swingman-Red sons. 
GO TO the lists of SIRE OF SONS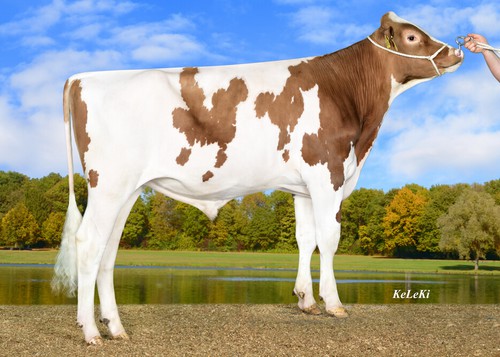 Sanseo P Red (Spark-Red x Mission P RDC), mating sire Red & polled