Excellent visit for the 6-yr-old Xenia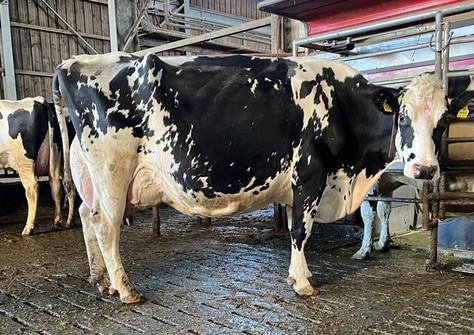 General
Xenia classified EX-90 in Luxembourg.
A few days after we featured that her granddaughter Lis K&L Xemmi 7970 classified VG-88,  the fourth lactation Cogent Supershot daughter - owned by LisLéck Holsteins and GenHotel - also managed to raise her score! 
In September 2021, Xenia calved for the fourth time. The big and strong bodied cow impressed the classifier, and made this fantastic cow classify EX-92 FR and EX-91 DS which led to a total score of EX-90. In addition to Xenia her amazing type, she proves to be a huge milker too! Xenia closed her 3rd lactation with 14,704kg of milk and 4.10% fat with 3.85% protein (314 days). The 4th lactation of the Supershot has started well and she produces 70kg of milk/day and at this time her lifetime production is 62,989kg of milk with 3.78%f & 3.78%p!