Van Het Zomerbloemhof sells!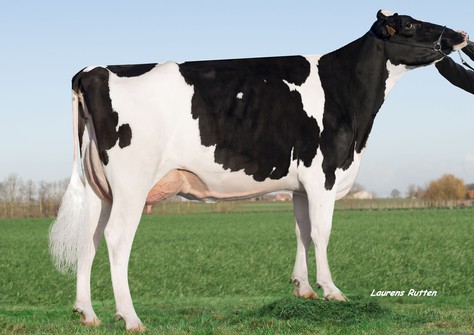 Sales
Kemelia V/H Zomerbloemhof VG-87, dam of lot 3!
Next week Saturday, January 29th the Flemish Agro-Expo Dairy Sale will take place online. During this special online edition, the Belgium GenHotel member Van Het Zomerbloemhof will offer also several stunning sale lots!
From the herd of the Lahousse family, Van Het Zomerbloemhof, three heifers will sell during the Agro-Expo Dairy Sale:
Lot 3: Ruby-ET v/h Zomerbloemhof (A2A2)
Bennie x Topnotch x VG-89 Legendary
Ruby hails via Co-Vista Atwood Desire EX-90 from the well-known Hanoverhill Tony Rae EX-96. This line contains high-scoring cows that can produce a lot of milk with high components. And they know how to transmit high indexes due to the paternal line! Ruby is a Progenesis Bennie daughter with 163 gRZG, 152 gRZM and super health traits, combined with  120 MTY and 123 RZE. She sells with an embryo contract!
Lot 6: Pretty Woman v/h Zomerbloemhof
Noble x VG-85 Baltikum x VG-87 AltaGratis
The recently freshened Mr Spring Noble comes from a high producing cow family with functional conformation. This 2-yr-old is a perfect cow for the commercial dairy farmer! Her VG-85 Baltikum dam has a current lifetime production of 40,715 kgs of milk in just three lactations. Granddam Gratisse is over 10-yrs-old, will calve in March for the 9th time and has a lifetime production of 103,814 kgs of milk! Seven hunderd tonners in the pedigree!
Lot 16: Rutje v/h Zomerbloemhof
Conway x Frazzled x VG-87 Bookem
Very interesting Sandy-Valley R Conway granddaughter of the American bull dam S-S-I Bookem Modesto 7269 VG-87. This Lynmead Celsius Minnow EX-91 cow family breeds well on gTPI basis. For example, the O-Cosmo maternal sister of dam Orlando-ET V/H Zomerbloemhof belonged to the top 100 TPI cows in 2014!  In this pedigree we also find the phenomenal brood cow Seagull-Bay Oman Mirror VG-86, dam of a.o. proven sires Roylane Socra Robust & Roylane Boxer Punch! In short, with Rutje V/h Zomerbloemhof (2665 gTPI) you can start your own bull dam family!