Embryo purchase VO Madita grows into wonderful dairy cow!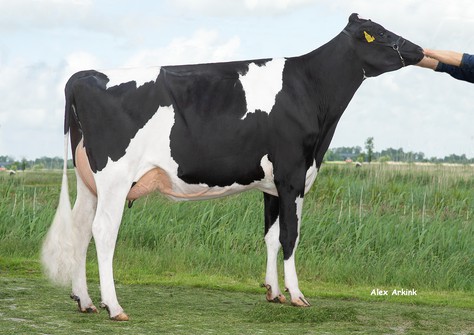 General
VO Madita VG-86 (AltaHothand)
Out of the successful 3STAR Breeding Program, several combinations from donor De Oosterhof K&L May Lios Tual 1 were sold and transfered in 2019. Three of these embryos, produced with Peak Altahothand, were exported to the German herdbook VOST and resulted in the birth of two heifer calves. Both calves have grew into great young cows and are performing very well.
De Oosterhof K&L May Lios Tual 1 GP-84 was at the time the highest female De Oosterhof Dg Helios in Europe based on RZG. She also showed promising indexes in the Italian and American systems. This made the Helios daughter, in addition to multiple bull dam K&L OH Mabel, one of the most interesting donors out of brood cow Maybelline Tual VG-85. Tual 1 (A2A2 & BB) was flushed with sires Soundcloud and Peak AltaHothand which together produced at least 13 male and female offspring including the German-born VO Merry (by AltaHothand) and her full sister VO Madita.
With 4552 PFT and 2857 TPI, Madita is still the highest testing daughter from Tual 1 GP-84. She finished her first list with 8916kgM with 4.43% fat and 3.68% protein and classified VG-86 as a 2-yr-old! Full sister Merry, which is housed on the same farm, also shows great potential. In addition to a nice score of GP-84, she shows a 305 days production in her first lactation of 10,923kgM with 4.12% fat and 3.48% protein. Both cows have recently calved for the second time.
Dam De Oosterhof K&L May Lios Tual 1 GP-84 is still in production and will calve for the third time in mid-September. 
At the moment, embryos from this cow family are available. Click here for more information!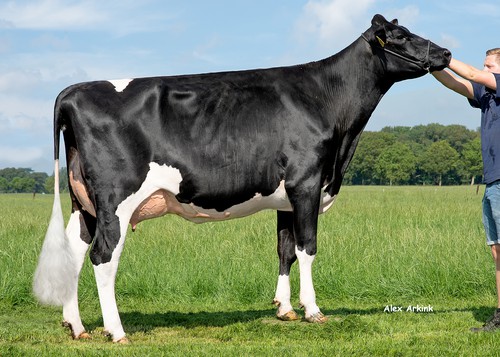 Dam De Oosterhof K&L May Lios Tual 1 GP-84 (s. Helios)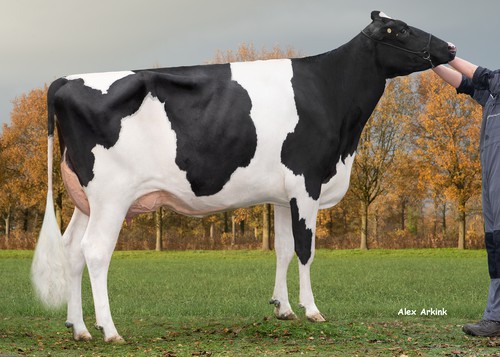 K&L OH Mabel (Granite), maternal sister to Tual 1 GP-84