Drouner Holsteins 'Red Holstein Breeder of the Year 2021'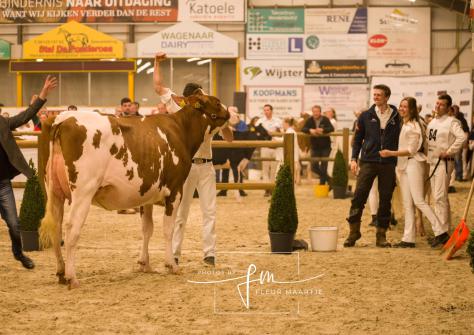 General
In March this year, the Albring family won the Jackpot with Drouner Aiko 1718 Red (by Warrior-Red) at the FDV show.
Last week, the Albring family, Drouner Holsteins, was named 'Red Holstein Breeder of the Year 2021'. This title is initiated by the dutch 'Platform Roodbont'. The results of this election are determined by the votes of dutch R&W breeding associations, dutch dairy press and the Platform Roodbont committee.
After already being named 'Breeder of the Year in 2020' by the HHH organisation, the Albring family now also carries the title 'Red Holstein Breeder of the Year 2021'. In recent years, Drouner Holsteins, in collaboration with GenHotel, has been able to significantly expand the top R&W bulls, nationally and globally. Brood cow behind these bulls is the red factor Badger-Bluff Fanny Freddie daughter out of KHW Goldwyn Aiko RDC EX-91, Drouner AJDH Aiko RDC VG-87.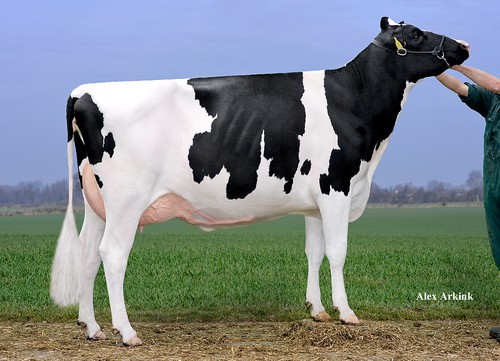 The foundation cow of the Drouner Aiko's: Drouner AJDH Aiko RDC VG-87
Offspring of this brood cow, both male and female, dominate the top rankings based on index and type. Well-known proven bulls are Drouner K&L Aiki P Red (by Apoll P Red), Drouner Ahoy P Red (by Amax), Drouner Rednex (by Effort Red) and his full brother Drouner Effektiv, the number 1 R&W daughter proven sire of Germany in April 2021. Also in the young sire segment bulls out of the Drouner Holsteins barn know how to come along. Examples are Drouner Biko Red (by Born P RDC), Drouner Abraxas Red P (by Delta Abundant P), Drouner Altitude-Red (by Jacuzzi-Red) and perhaps one of the most influential bulls of the moment: Drouner K&L Augustus P Red. He is a Caudumer Solitair P Red from Drouner K&L Aiko 1557 RDC VG-87 and the number 1 R&W sire in Switzerland 4-2021! In several systems, especially Italy, Switzerland and America, this polled Aiko descendant scores high indexes, which makes him a widely used bull worldwide: 2796 gTPI, 624 gPLI, 4213 gPFT and 1597 gISET. Augustus P Red his gISET makes him still the number 3 in Switzerland!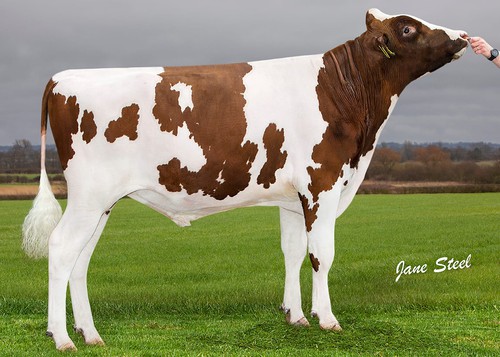 Drouner K&L Augustus P Red
The Aiko family also bring (genomic) success for the females, for example, the polled Koepon AltaTop daughter Drouner Aiko 1796 P Red - maternal-sister of Altitude-Red - with 153 gRZG is the leader of the Albring herd. Even the last classification day resulted in an average of 85.4 points for the red-and-whites. Two VG-88 scores went to Drouner Ria 1716 Red (Drouner K&L A328 x Drouner Ria 1496 RDC) and Drouner Aiko 1718 Red (Warrior-Red x Drouner AJDH Aiko 1288 EX-91), which won the jackpot competition last March during the provincial FDV Show. This brings the current, average classification score of the Red Holsteins at Albring to 86.4 points total score!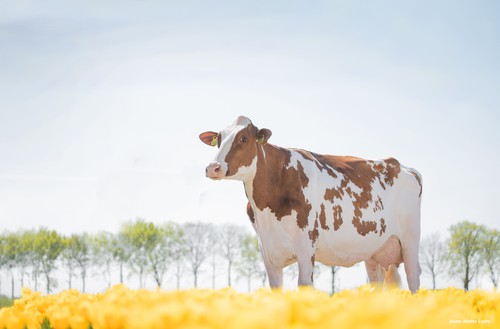 Drouner AJDH Aiko 1288 EX-91 (s. Olympian RDC), R&W Junior Honourable Mention NRM 2017