Koepon Summer Sale 2022
It is an honor to announce the Koepon's next online auction. From the 4th till the 7th of July, the Koepon Summer Sale 2022 will take place online, via FarmersBid.com! So mark these dates in your agenda now.
During this auction ± 40 heifer calves and maiden heifers from Koepon's best cow families will be offered, such as Holstein and Red Holstein offspring from top families including Koepon Classy, Des-Y-Gen Planet Silk, Golden-Oaks Mark Prudence and Glenridge Citation roxy. An unique opportunity to get your hands on granddaughters from the 'Global Red Impact Cow of the Year': Lakeside Ups Red Range Red VG-86!
The last sale organized by Koepon Genetics took place in September 2019. Almost 40 lots were offered as well. This turned out to be a great success, because all animals were sold to buyers from several countries such as Belgium, Spain, Ireland, United Kingdom and Switzerland.
Top seller at this sale was Koepon Swingmn Range 3 Red (Westcoast Swingman-Red x Lakeside Ups Red Range Red VG-86). This R&W heifer was sold for € 4,900 to Switzerland, where she freshened in September 2021. Range 3 Red, full sister of sires Koepon Ritzy Red & Koepon Renown Red, is classified GP-83 and projected at 9238kgM with 4.64% fat and 3.59% protein in 305 days.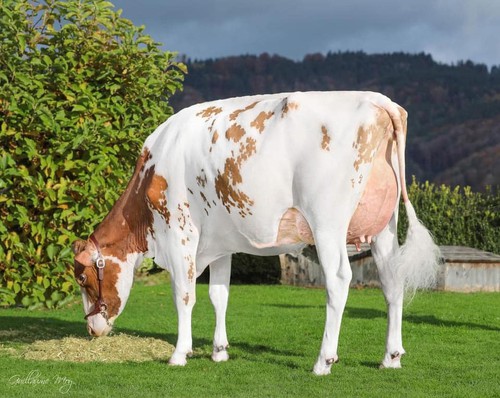 Koepon Swingmn Range 3 Red GP-83 (s. Swingman-Red)
Recently we received more news about one of the many successful Koepon Sale 2019 purchases. Koepon S P Regenia 268 P RDC, sold at the time as a heifer calf, is lately classified VG-88 (VG-88 MS). This polled and red carrier Spark-Red daughter descends via Koepon Epic Regenia 109 EX-90 from the American Sher-Est Emory Swanny EX-90! Koepon and GenHotel congratulate Mts. Van der Weij in the Netherlands with this great result!
Calves that were purchased by the Belgium Zwanebloem Holsteins (the Masscheleyn family) have also successfully started their first lactations! For example, Koepon Date Classy 453, a Peak AltaDateline from Koepon Hero Classy 354 VG-85, is scored VG-86 (2-yr-old) and projected at 10,806 kgsM with 4.05% fat and 3.64% protein. Also purchased by Masscheleyn is Peak Anita Scotch 1208 (s. Westcoast Scotch). Anita 1208 scored VG-86 in her first lactation and calved for the second time in January. She is projected to produce 14,580 kgM 3.35% fat and 3.30% protein in 305 days in her 2nd lactation.
In the coming weeks you'll find more information about the Koepon Summer Sale 2022 
on our website, social media and on FarmersBid.com