Drouner Holsteins enjoys a fanastic classification
General
Drouner AJDH Aiko 1288 Red EX-91
With a group of 15 two-yr-olds, Drouner Holsteins managed to impress the Dutch classifier. This was further emphasized by the average of VG-85.7 of these milking 2-yr-olds. In addition to the youthful group with milking heifers, five cows were also re-scored.
Highest score of VG-88 among the 2-yr-olds was for Schreur Shimmer RDC daughter Drouner Aiko 1809 Red. The granddaughter of Drouner AJDH Aiko RDC VG-87, which calved in January, is projected at 9,074 kgsM with 4.00% fat and 3.41% protein. With her score of VG-88 with 88 points for Feet & Legs, Aiko 1809 is currently the highest Dutch scored Shimmer RDC daughter. Dam, a fifth calf Schreur Apoll P, is still present at Albring. 
From the total of fifteen milking 2-yr-olds no less than eight come from the well-known KHW Goldwyn Aiko RDC EX-91 line at Albring. These offspring achieved an average top score of more than 85 points. Drouner Aiko 1788, a first lactation Mr Blondin Warrior-Red, also received a great score of VG-87. Her halfbrothers, including Drouner Biko Red, Drouner Potency Red and Drouner Postman Red, were purchased by different AIs. Their dam is the well-known VG-89 Pat-Red, 2nd in her class and best udder at the European Holstein Show in Libramont 2019 and Reserve Junior R&W Champion NRM 2019.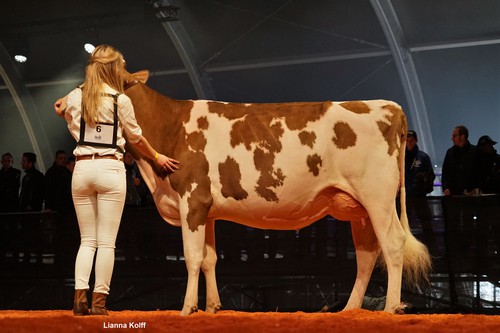 Dam: Drouner DH Aiko 1445 Red VG-89
Junior B&W Champion HHH 2019, Drouner Anna 1529 VG-88, produced a heifer by Val-Bisson Doorman. In the meantime, this Drouner Anna 1782 is producing and classified with VG-87 (VG-88 MS). In August 2022, Anna 1782 VG-87 freshened from a Winstar-Mh Empire Maker heifer calf.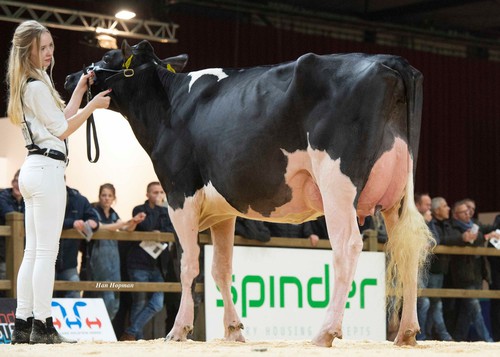 Dam: Drouner Anna 1529 VG-88
Albring also bred, together with GenHotel, some offspring from the Koepon Classy family. From this great breeding and producing dam line, two animals were classified. One of them is Drouner 3STAR Classy 1817, PrismaGen Rafinha x Drouner K&L Classy 1662 VG-86, which was awarded with VG-87 and MAX VG-89 F&L. For the great producing (12,530 kgsM with 4.13%F & 3.26%P) Drouner 3STAR Clary 1730 by ABS Crimson, there was a maximum score of VG-89 for Type. Clary 1730 was good for VG-86.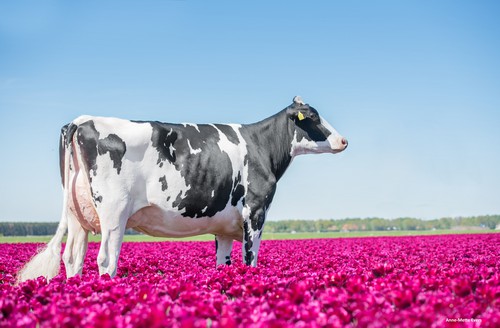 Dam Classy 1817: Drouner K&L Classy VG-87 (s. Superhero)
The five re-classified cows, from second to fourth calves, each received a fantastic score of VG-88. One of them is the second calver Peak AltaHothand daughter of K&L OH Rozella VG-85, namely Drouner 3STAR Rozel. Rozel's udder in particular excelled and was rated with VG-89. Recently you could also read fantastic news about the full sister of this VG-88 AltaHothand on our website.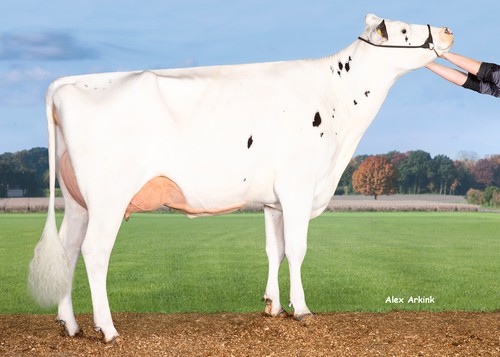 Dam: K&L OH Rozella VG-85
| | | | | | | | | | |
| --- | --- | --- | --- | --- | --- | --- | --- | --- | --- |
| Name | Sire | Dam | Col | Lact | FR | DS | MS | FL | TOT |
| Asra 1448 | High Octain | Asra D VG-87 | B | 4 | 87 | 90 | 89 | 87 | 88 |
| Aiko 1585 | Silky-Red | Aiko 1411 Red VG-89 | R | 3 | 87 | 86 | 89 | 87 | 88 |
| Mientje 1641 | King Doc | Mientje 1281 VG-88 | B | 3 | 88 | 87 | 88 | 89 | 88 |
| Rosemay 1690 | King Doc | Rosemay P VG-86 | B | 2 | 88 | 90 | 88 | 86 | 88 |
| 3STAR Rozel | AltaHothand | Rozella VG-85 | B | 2 | 86 | 87 | 89 | 89 | 88 |
| Aiko 1809 | Shimmer RDC | Aiko 1401 P Red GP-82 | R | 1 | 88 | 87 | 87 | 88 | 88 |
| Anna 1782 | Doorman | Anna 1529 VG-88 | B | 1 | 88 | 88 | 88 | 85 | 87 |
| Aiko 1788 | Warrior-Red | Aiko 1445 Red VG-89 | R | 1 | 86 | 88 | 87 | 88 | 87 |
| Mientje 1800 | Unix | Mientje 1619 VG-87 | B | 1 | 87 | 89 | 86 | 87 | 87 |
| 3STAR Classy 1817 | Rafhina | Classy 1662 VG-86 | B | 1 | 84 | 87 | 86 | 89 | 87 |
| 3STAR Clary 1739 | Crimson | Aiko 1739 VG-85 | B | 1 | 86 | 89 | 87 | 83 | 86 |
| Asmara 1785 | Abundant | Asmara1530 VG-86 | B | 1 | 83 | 88 | 85 | 88 | 86 |
| DH Aiko 1789 | Rambo | Aiko 1445 Red VG-89 | R | 1 | 85 | 86 | 85 | 87 | 86 |
| Aiko 1793 | Powernap | Aiko 1386 P-Red VG-88 | R | 1 | 84 | 87 | 84 | 87 | 86 |
| Aiko 1799 | Rambo | Aiko 1445 Red VG-89 | R | 1 | 84 | 87 | 88 | 84 | 86 |
| Rita 1810 | Pepper | Rita 1452 VG-87 | B | 1 | 84 | 87 | 86 | 86 | 86 |