WKF Rider Marja in addition to a high RZG & TPI also very high in Spain!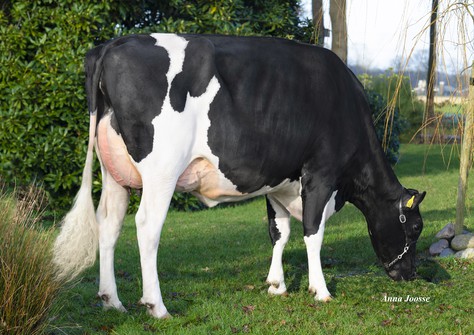 Sales
Granddam: Veelhorst Vekis Melody VG-87
Even though the GenHotel Selection Sale started yesterday, genomic results of the selling hiefers are still coming in. Like the outstanding gICO of lot number 1 WKF Rider Marja!
The Spainish genomics result of WKF Rider Marja show a 5105 gICO. This makes the young Bgp Fb Ridercup daughter from the Vekis Sudan Mellow cow family the absolute top in Spain! With a big will for production of 1673 kgM with +0.31% fat and +0.21% protein and 128 Longevity Marja can be a big contribution to your breeding program!
You could already be impressed by Marja's other indexes, which show 162 gRZG and 2955 TPI! This makes her one of the highest female Ridercup in Europe for gRZG, followed by 151 gRZM, 132 gRZE, 121 gRZN and 121 gRZGesund. Marja, granddaughter of Veelhorst Vekis Melody VG-87, is also A2A2 and is sold with embryo contracts worth € 15,650,-! Marja's fourth dam is the German NH Marilyn Monroe VG-86, the great production cow with 13 sons in AI, including Nh Fantastic and NH Sunview Mitch. The daughter proven Brentano and the high scoring RZG Col Greenwich also come from this branch.
Do you strike and bring this future, international, bull dam into your herd? Buy lot 1 WKF Rider Marja (Ridercup x Copyright x VG-87 Gymnast) today or make a bid!