Bull dams succesfull during 'Boerenkoeverkiezing'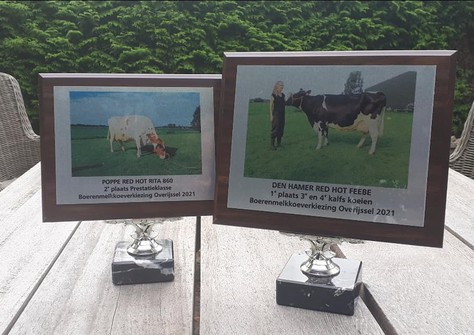 Poppe Holsteins and Red Hot Holsteins participated this year in the Boerenkoeverkiezing 2021 - county Overijssel, organized by CRV. Julia Poppe choose Red Hot Rita 860 VG-87 and Den Hamer Red Hot Feebe RDC VG-89 as strong contestants, and she was right!
Poppe Red Hot Rita 860 VG-87 
​(Snow RF x Willem's Hoeve Rita 744 Red GP-84)
The fifth calver Rita 860 VG-87 already has a big reputation to hold on. The Poppe Snow RF daughter has been named the No. 1 R&W production cow in the Netherlands in 2019 and has several sons in AI in Holland, Germany and the UK. This descendant from the Willem's Hoeve Rita family already produced 91,671kgM with 4.47% fat and 3.68% protein, and that in just 2083 days. She participated in the Boerenkoeverkiezing's 'Performance class', or rather: cows with a lifetime production of >90,000kgM. Here she won 2nd place!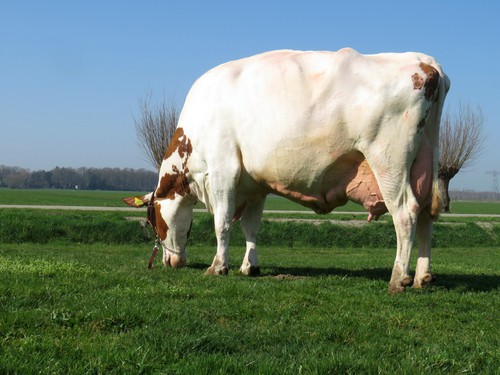 Poppe Red Hot Rita 860 VG-87 in 5th lactation (Photo: Julia Poppe)
Den Hamer Red Hot Feebe RDC VG-89
(Balisto x Den Hamer Red Hot Amor Fientje RDC VG-86)
Feebe RDC VG-89 has multiple offspring due to flushes, a well known son of hers is Quatropoint Red Hot Ferryl at KI Kampen and she has more sons that will enter AI studs. She has also won prizes at several video shows. The Balisto daughter of Poppe and Red Hot is a big milk producer as well as protein producer! The average of her 305-days production over three lactations is no less than 14,486kgM 4.38% fat and 3.81% protein. This big bodied dairy cow was also admired by the jury due to her production and capacitiy. In the category '3rd and 4th lactation cows' she won the first price. Feebe RDC G-87 also turns out to be a great breeding cow, because her daughter Poppe Red Hot Feather RDC VG-87 by Weelder Esperanto is already pojected at 13.661kgM 4.06%F and 3.81%P in her first lactation!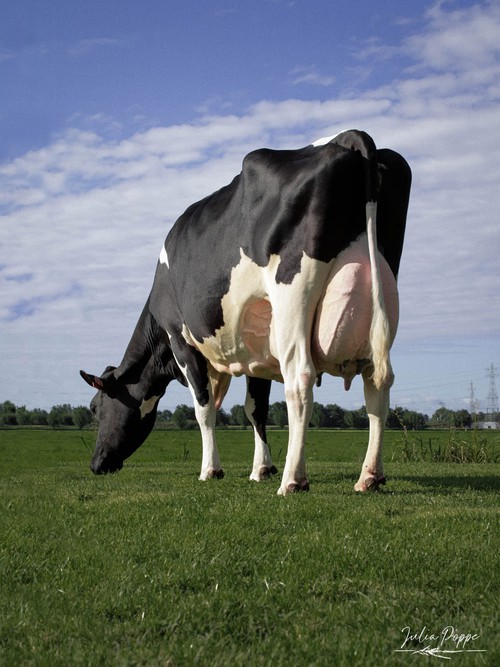 Den Hamer Red Hot Feebe RDC VG-89 (Photo: Julia Poppe)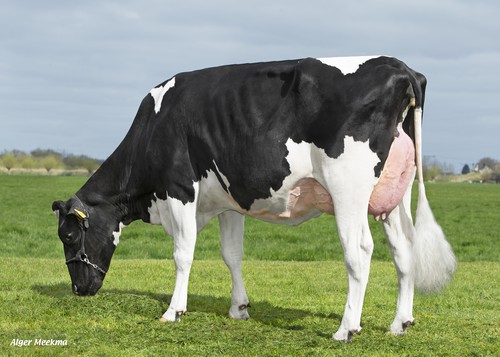 Poppe Red Hot Feather RDC VG-87 (Esperanto x Feebe RDC VG-89)