Full sisters of Aalshorst Gwen classified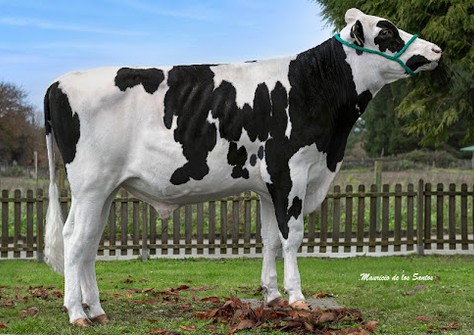 General
Aalshorst Gwen (Gywer RDC x Aalshorst Fienchen 14 Red) @Xenética Fontao
Aalshorst Holsteins recently classified 20 two-yr-olds, including descendants from some influential and well-known cow families. For example, we found descendants from the Neblina-, Veenhuizer Zadia- and the Poppe Fienchen family at the list of classification results.
From the Fienchen family two full Gywer RDC sisters: Aalshorst Fienchen 39 Red and Aalshorst Fienchen 37 Red were classified. Their full brother Aalshorst Gwen (5,042 gICO) is sold to the Spanish AI-Stud Xenética Fontao. Dam of these three is Aalshorst Fienchen 14 Red, a Mr Salvatore RDC out of Poppe Fienchen 8685 Red VG-86. Both sisters were classified with great mammary scores. For example, Fienchen 39 Red was good for GP-84 with VG-87 MS and Fienchen 37 Red recieved VG-85 (VG-88 MS).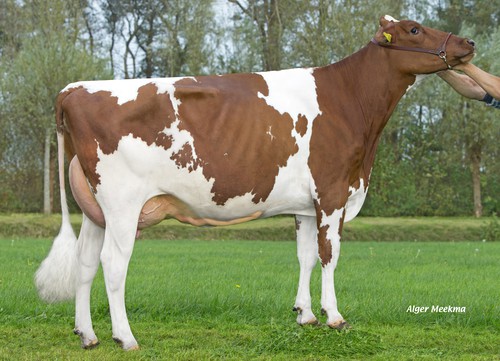 Granddam: Poppe Fienchen 8685 Red VG-86 (s. Colorado)
Aalshorst K&L Zalia 3 (by Bumper RDC) is with VG-85 the 10th generation from the Veenhuizer Zadia family with VG/EX. Through her granddam HWH K&L Aik Zalia RDC VG-88, Zalia 3 VG-85 descends from foundation cow Veenhuizer Zadia 7 EX-91. The first lactation Bumper RDC is a maternal sister of Aalshorst K&L Zambrano Red at Masterrind.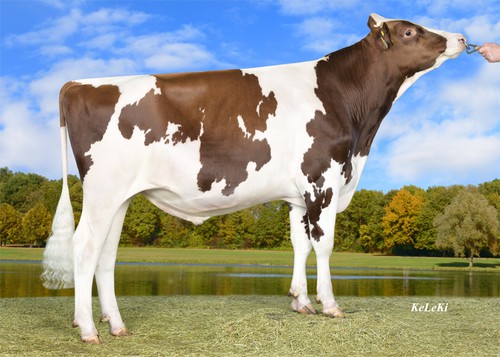 Aalshorst K&L Zambrano Red
K&L Nemea 5 (by Delta Magister) hails via her great-granddam Tirsvad Stol Joc Nemo VG-87 from the strong breeding RUW Neblina VG-87. Nemea 5 is a result from the 3STAR Breeding Program and is a easy to work with cow, according Tim and Roland Scholten. She ended the day with a nice score of VG-86 backed by VG-87 for both Frame and Dairy Strength.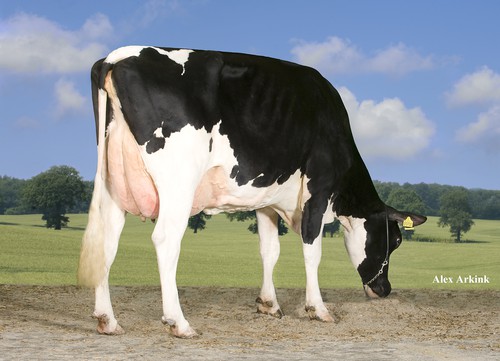 Tirsvad Stol Joc Nemo VG-87 (vS. Stol Joc)
Classification highlights:
| | | | | | | | | | |
| --- | --- | --- | --- | --- | --- | --- | --- | --- | --- |
| Name | Sire | Dam | Col | Lact | FR | DS | MS | FL | TOT |
| Geertje 287 | Timo Red | Geertje 174 GP-84 | R | 1 | 86 | 86 | 86 | 85 | 86 |
| Fienchen 15 | Jetset | Fienchen 804 VG-88 | B | 3 | 83 | 87 | 85 | 89 | 86 |
| K&L Nemea 5 | Magister | Nemea 3 | B | 1 | 87 | 87 | 85 | 86 | 86 |
| Fienchen 37 Red | Gywer RDC | Fienchen 14 Red GP-81 | R | 1 | 82 | 85 | 88 | 84 | 85 |
| K&L Zalia 3 | Bumper RDC | Zalia 1 RDC VG-87 | B | 1 | 83 | 87 | 87 | 84 | 85 |
| Geertje 253 | Breaker RDC | Geertje 211 Red VG-85 | R | 3 | 84 | 80 | 85 | 83 | 84 |
| K&L Lol 4 | Born P RDC | Lol 1 P Red VG-85 | R | 1 | 87 | 87 | 83 | 81 | 84 |
| Fienchen 33 | Rosebud-Red | Fienchen 14 Red GP-81 | R | 1 | 85 | 83 | 86 | 79 | 84 |
| Geertje 298 | Timo Red | Geertje 193 VG-85 | R | 1 | 85 | 87 | 82 | 87 | 84 |
| Fienchen 39 Red | Gywer RDC | Fienchen 14 Red GP-81 | R | 1 | 83 | 81 | 87 | 82 | 84 |