Big reveal: 'Dutch Cow of the Year 2022'!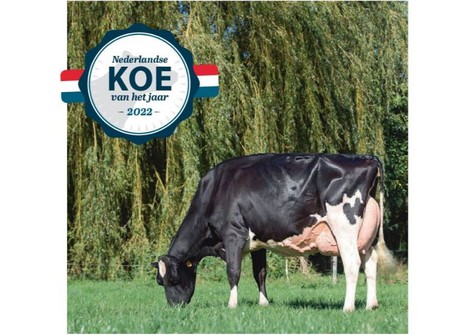 In April, the nominated cows for the title 'Dutch Cow of the Year 2022' were presented in the HI Plus. After this, readers had the opportunity to vote for their favorite! In addition to the reader votes, the result was also determined by a two-member jury, consisting of Jeroen van Beek (Southland Holsteins) and Bert Meijering (BM Livestock).
Last week the results finally arrived in our mailbox and the Netherland's next Cow of the Year is announced: Carf Emeraude EX-91! At the moment she is the only living Holstein cow with 7 excellent classified daughters. GenHotel members also enjoy the influence of Breadale Goldwyn daughter Emeraude. Ritmaster Holsteins owns the VG-86 scored JK Eder DG Awesome Esmeralda RDC (Awesome-Red x EX-92 Doorman x Carf Emeraude EX-91), her Swissbec Power Red daughter Ritmaster Esmeralda 6 Red was sold to Drouner Holsteins. Schuit Holsteins bred a +3.30 gPTAT scoring Blondin Thunderstorm - Schuit Elisa 1 - which via VG-89 Byway x VG-87 Doorman x VG-88 Numero Uno also traces back to the EX-91 Goldwyn.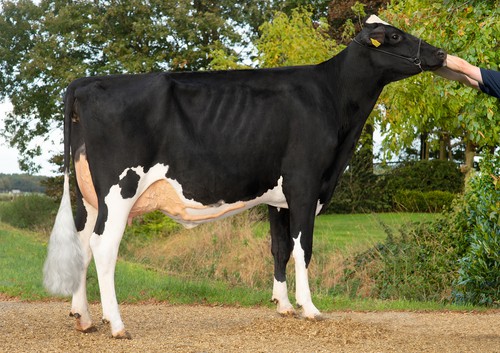 JK Eder DG Awesome Esmeralda RDC VG-86 (s. Awesome Red)
Carf Emeraude won the hearts of the readers with 29% of the votes, against respectively 13% for VDR Sandra 2, the number 2 and 12% Lakeside Ups Red Range VG-86 ranking 3rd.
In the final results it came down to the placing of the judges. We find placed 2nd the 'Red Impact Cow of the Year 2021': Lakeside Ups Red Range VG-86 owned by Koepon Genetics. Red Range was both Van Beek and Meijering's favorite. Partly due to her great influence through both male and female offspring and the large number of sons in AI, Van Beek placed this Mr Salvatore RDC daughter high in his rankings. Meijering also recognizes the potential of this Golden-Oaks Mark Prudence EX-95 offspring and choose Red Range, dam of the number 1 gLPI R&W sire 3STAR OH Ranger-Red, as his number 1. During the upcoming Koepon Summer Sale you have the opportunity to purchase several granddaughters of Red Range VG-86!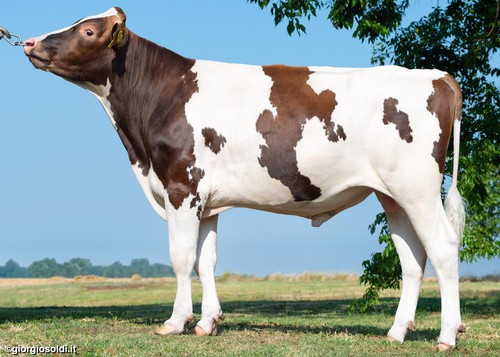 3STAR OH Ranger Red is one of 15 sons of Red Range VG-86, which are sold to international AI-studs.
Third place went to Drouner AJDH Aiko RDC, the VG-87 Badger-Bluff Fanny Freddie daughter of Drouner Holsteins. The daughter of KHW Goldwyn Aiko RDC EX-91 won the heart of Meijering, who placed her 2nd because of Aiko RDC VG-87 her amazing male descendants and show type legacy that Aiko emphasizes through her female offspring. Despite the strong competition Van Beek has also included Aiko in his top 5. One of his reasons to do so is because of the great impact bulls that came from this line. Strong examples are Drouner Effektiv-Red, Drouner Rednex-Red and Drouner K&L Augustus P Red.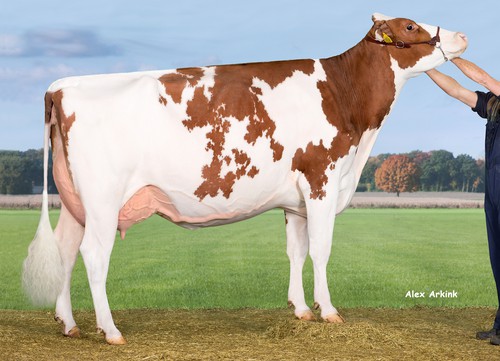 Drouner AJDH Aiko 1288 Red EX-91 (Olympian RC x Aiko RC VG-87) - Honoral Mention R&W 2-Yr-olds NRM 2017
In the top 10 we find no less than four cows (co-) bred and / or owned by GenHotel members. Below you will find the results of the Dutch Cow of the Year 2022:
| PLacE | NAme | sire | owner |
| --- | --- | --- | --- |
| 1 | Carf Emeraude EX-91 | Goldwyn | JK Eder Holsteins & DG |
| 2 | Lakeside Ups Red Range VG-86 | Salvatore RC | Koepon Genetics |
| 3 | Drouner AJDH Aiko RC VG-87 | Freddie | Drouner Holsteins |
| 4 | De Oosterhof-DG Rubellia RC VG-86 | Rubicon | De Oosterhof |
| 5 | VDR Sandra 2 EX-92 | Malki | VDR Holsteins |
| 6 | Caudumer Lol 371 P RC VG-86 | Balisto | Caudumer Holsteins |
| 7 | Double W Ricky 2 VG-88 | Snowfever | Double W Holsteins |
| 8 | DG Candide VG-85 | Mogul | DG |
| 9 | Barnkamper Marilyn 390 VG-89 | Dempsey | Barnkamper Holsteins |
| 10 | Weelder Esmonique 38 VG-85 | G-Force | Weelder Holsteins |