Poppe 3STAR Angela Red raffled last Saturday!
General
Poppe 3STAR Angela Red (Matty P RDC x Gywer RDC)
In honor of the 50th anniversary of V.V.B. Silvolde in the Netherlands, the snow-white Poppe 3STAR Angela Red was raffled off last Saturday. Especially for this occasion the fancy K&L OH Matty P RDC daughter from the great brood cow Poppe K&L Adele Red VG-85 was offered by Poppe Holsteins and GenHotel.
Angele Red goes back to the phenomenal brood cow Kamps-Hollow Durham Altitude RDC EX-95, via a VG-85 Gywer RDC x GP-84 Great Red x VG-86 Nugget RDC x VG-85 Supersire x EX-90 Superstition x EX-91 Goldwyn. This branch contains no less than three dams which carry the honorable title 'Red Impact Cow of the Year'. In addition this family also performs excellent when it comes to fat and protein production. As an influential brood cow Altitude RDC EX-95 stands at the foundation of various AI bulls. Examples include proven and young sire like Advent-Red, Jotan-Red, Acme RDC, Mr Pat Uno Pace-Red, Albano, Future Dream H. Amor Red, K&L SV Adrian Salvatier, Visstein K&L Money P Red and Visstein K&L Ghost Red.
Adele Red VG-85 transmits high gRZG, with daughters up to 156 gRZG, such as the red & white and polled Poppe 3STAR Allinde P Red (by Star P RDC)! With Angela Red, her new owners have a very special heifer in their hands. We wish them a lot of joy and success with this great heifer from the (joint) breeding program of Poppe and GenHotel.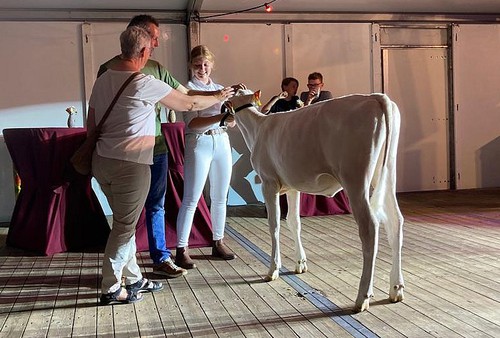 Angela Red with her lucky new owners!