Lakeside Ups Red Range, a dream come true!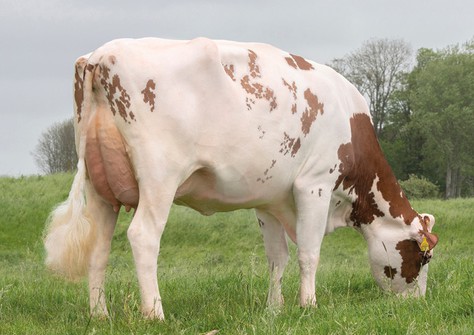 General
Lakeside Ups Red Range VG-86 makes many dreams come true!
It was quite a week for Lakeside Ups Red Range VG-86 of Koepon Genetics! Red Range VG-86 has made several dreams of several Dutch breeders come true in just one week! 
Last summer Lakeside Ups Red Range VG-86, a red Mr Salvatore RDC out of De Oosterhof Dg Rose RDC VG-89 already was named 'Most influential bull dam', with no less than 16 sons - and 13 grandsons in AI! Shortly thereafter, the nomination for 'Global Red Impact Cow 2021', also an election organized by Holstein International, followed. At the beginning of this week, the results were finally announced and Red Range VG-86 was honored as 'Global Red Impact Cow 2021'!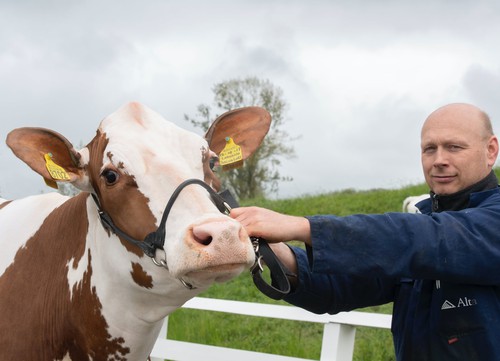 Alex Borst & Red Range at Koepon
At the GenHotel Selection Sale in 2017, Lakeside and Upstream Holsteins sold the young and promising Red Range, continuing her way to Koepon Genetics. There she proved to be a true flushing machine and managed to fulfill embryo contracts and create the next generation at Koepon. Red Range did what she had to do and brought many female and male offspring with high indexes in many different systems!
In the meantime, the first daughters of the red Golden-Oaks Mark Prudence EX-95 descendant are fresh in their first lactation, such as Koepon Swingmn Range 3 Red (by Swingman Red) in Switzerland.
For De Oosterhof and GenHotel Lakeside Ups Red Range VG-86 delivered the number 1 R&W sire globally 3STAR OH Ranger-Red (by Rubels-Red). He also made a crushing impression during this week's index run! Also for many of his (maternal) brothers the December proofs went amazing. Below an overview with some bulls that belong to the top of Europe and even the world:
| name | sire | INDEX |
| --- | --- | --- |
| 3STAR OH Ranger-Red | Rubels-Red | 2872 gTPI/3867 gLPI/812 gPLI/159 gRZG/1695 gISET/4536 gPFT |
| Koepon OH Robin-Red | Rubels-Red | 2672 gTPI/3600 gLPI/643 gPLI/154 gRZG/1560 gISET/3922 gPFT |
| Koepon OH Ryder-Red | Rubels-Red | 2719 gTPI/3678 gLPI/702 gPLI/1517 gISET |
| Koepon AltaRefine Red | AltaTop-Red | 2788 gTPI/3487 gLPI/1555 gISET |
| Koepon Rigoletto RC | AltaDateline | 2719 gTPI/3329 gLPI/1533 gISET/4223 gPFT |
| Koepon Rugosa-Red | Mark RDC | 2734 gTPI/3546 gLPI |
| Koepon HMO Symbol Red | Swingman-Red | 2684 gTPI/3374 gLPI/613 gPLI/150 gRZG |
GenHotel congratulates Koepon and the Van Vliet family with this huge dream that has come true!
We also congratulate De Oosterhof and Semex with the top ranking sire: 3STAR OH Ranger-Red.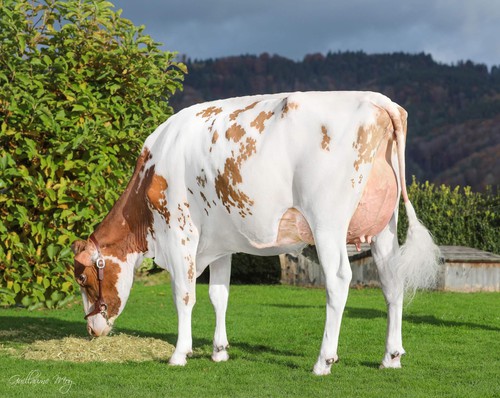 Koepon Swingmn Range 3 Red - 2625 gTPI (Swingman Red x Red Range VG-86)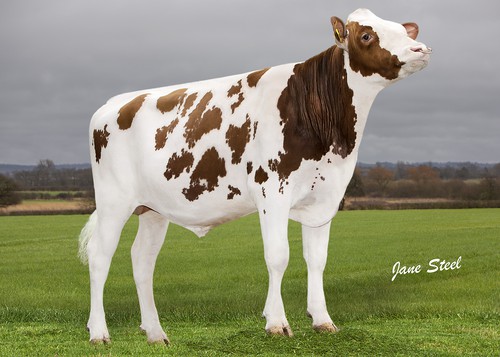 Koepon OH Robin-Red (Rubels-Red x Red Range VG-86) #7 gISET @Cogent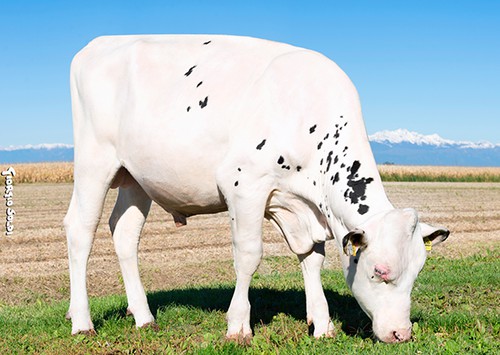 Koepon Rigoletto RC (AltaDateline x Red Range VG-86) #9 RDC gISET @Intermizoo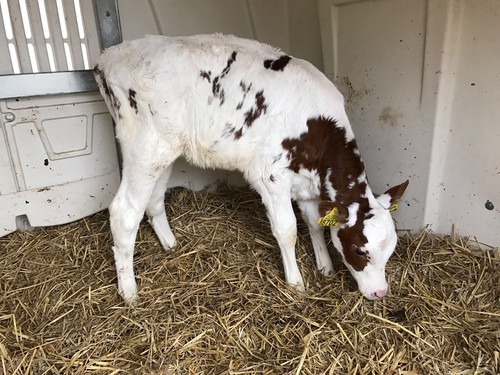 Lakeside Ups Red Range at the start of her grandiose career as an influential brood cow. (Photo: Van Vliet)