Drouner Holsteins brings classification of top-notch!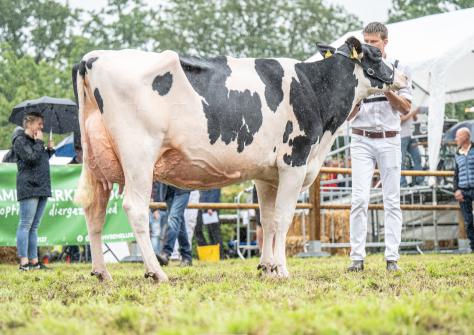 General
Blondin Success, direct daughter of American Subliminale EX-97, increased her score
Recently six young red and black and whites were classified at Drouner Holsteins. One of the young dairy cows re-scored is the second calver Blondin Success, a direct daughter of Blondin Goldwyn Subliminale EX-97. Also, again, the Albring family managed to breed a first calver with a maximum 2-yr-old score of VG-89!
The Blondin Raptor daughter from a.o. the Star of the Breed 2021, All-American 150,000 lbs Cow 2017 & Grand Champion + Best Udder Midwest National Spring Show 2021 Blondin Goldwyn Subliminale EX-97, started in June with her second lactation. Blondin Success made a strong debut in the show ring last summer during the Rundvee Show Noord 2023 with a class victory and the reserve title in the Udder Championship! As a milking 2-yr-old, the Raptor daughter was already rated with a score of VG-88 with MAX. VG-89 for mammary. After this re-classification, Success increased her score to VG-89 with a great EX-91 MS! This makes her, alongside Budjon-Vail RPT Stunning EX-90, one of the highest-scored Raptor daughters of the famous American show icon.
With this score, the VOST Select Sale 7 purchase of Drouner Holsteins and GenHotel has proven to be a great investment! Many embryos from Success have already been sold and soon the VG-89 scoring Subliminal daughter will be flushed again. Interested in embryos out of Success? Do not hesitate to contact us!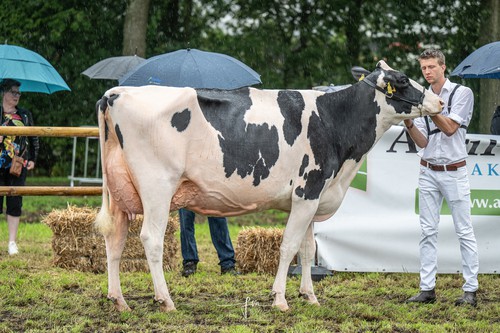 Blondin Success increased her score to VG-89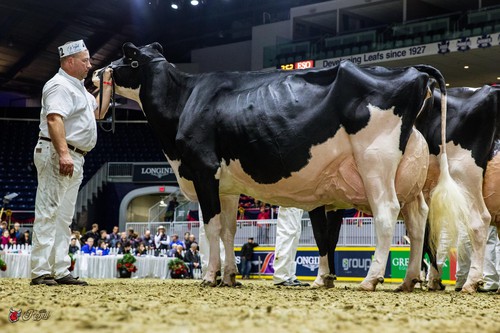 Dam: Blondin Goldwyn Subliminal EX-97
During the VOST Select Sale 9, Drouner Holsteins also purchased Ritmaster Esmeralda 6 Red. The by Ritmaster Holsteins-bred red Power Red granddaughter of JK Eder DG Esmeralda EX-92, freshened late May. The classification resulted in a score of VG-86 with VG-88 Frame. This makes Esmeralda 6 Red the 15th generation VG/EX in a row from the Carf Emeraude EX-91 cow family. Calves have already been born from flushes with Blondin Willows P Red and Actor-Red.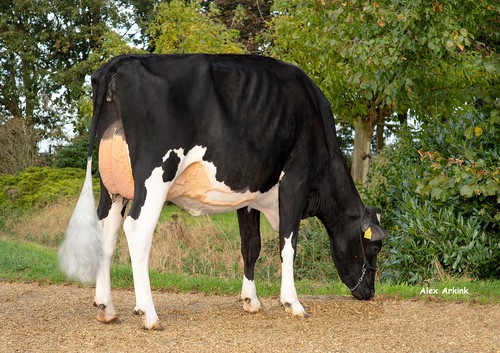 Dam: JK Eder Awesome Esmeralda RDC VG-86
​Both the Subliminal EX-97 and the Carf Emeraude EX-91 cow family will be represented during the upcoming VOST Select Sale 11! Keep an eye on our website.
The Albring family has once again succeeded in breeding a milking 2-yr-old with a maximum score of VG-89 with VG-89 Udder & Legs! The youthful and very correctly built Drouner Cosmo 1836, sired by Stantons Alligator from the Larcrest Cosmopolitan cow family, already made a crushing impression at the Rundvee Show Noord in August and achieved a double by winning the Junior 2-yr-old & Udder championship. Cosmo 1836, which freshened at 2.00 years, already has a strong show career and participated in numerous shows as heifer calf and maiden heifer. We hope to admire her again at the upcoming national show, the Holland Holstein sHow, as she has a bright future ahead for sure!

Drouner Cosmo 1836 scoring max. VG-89!
The KHW Goldwyn Aiko RDC EX-91 branch is represented at every classification day, including this visit with Diamondback RDC daughter Drouner Aiko 1816 Red and Drouner Aiko 1832, a first calver Claynook Zasberilla. The red Aiko 1816 Red appeared in the show ring last August and was named Res. Best Red Rundvee Show Noord 2023. She is a daughter of the well-known EX-91 Ladys-Manor Olympian, Drouner AJDH Aiko 1288 Red. With a score of VG-88 (VG-89 Frame & Udder) she is the 10th generation VG/EX in a row. The first lactation Zasberilla descends via VG-85 King Doc x VG-87 Bestboss x EX-90 Kanu P from Drouner AJDH Aiko RDC VG-87 (by Freddie), purchased as an embryo. Drouner Aiko 1832 was good for VG-87 with VG-88 Dairy Strength.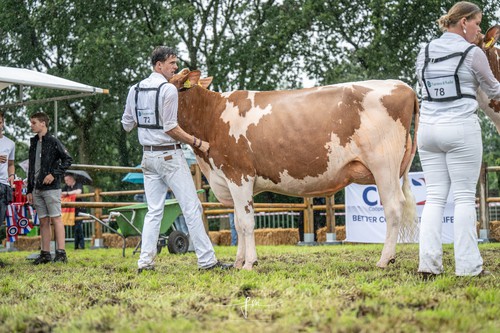 Drouner Aiko 1816 Red scores VG-88
From the collaboration between Waldclass Holsteins and GenHotel, the homozygous polled Waldclass 3STAR HS Chanel 2 PP was born. As a young heifer the KNS Simon P daughter from the Larcrest Cosmopolitan cow family was purchased via the GenHotel Selection Sale by Drouner Holsteins, where she was flushed several times to fulfill embryo contracts for foreign AI stations. Albring himself bred many high, polled offspring from this Cosmopolitan descendant, including the high ranked polled Drouner Chanel 1991 PP (by Hugo PP RDC) with 151 gRZG and a homozygous polled & redfactor full brother, which was sold to a German AI station. Chanel 2 PP received a nice score of VG-85!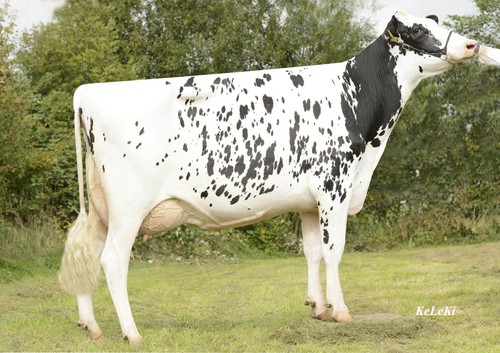 Drouner AJDH Cosmo VG-88 (s. Freddie), 5th dam Chanel 2 PP VG-85