Beautiful pictures of top donors at De Oosterhof!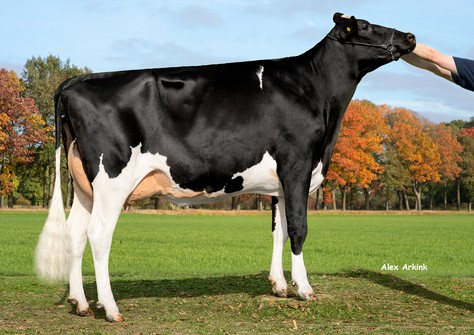 General
3STAR OH Mabelien VG-85 (Einstein x Granite)
Photographer Alex Arkink recently visited De Oosterhof to photograph several important brood cows. These are females that are important former donors and have now started their first lactation!
One of the first pictured beauties is 3STAR OH Mabelien, a Silverridge V Einstein daughter directly from multiple bull dam K&L OH Mabel! The pitch black Mabelien is a full sister of the bull 3STAR OH Mantra in Poland and of the top VG-86 scored transmitter 3STAR OH Martini! Mabelien herself scored the day of shooting VG-85 and received a great VG-88 score for Dairy Strength! From this 2859 gTPI-scoring daughter of Mabel, De Oosterhof bred a 2979 gTPI Peak Wheelhouse daughter together with GenHotel.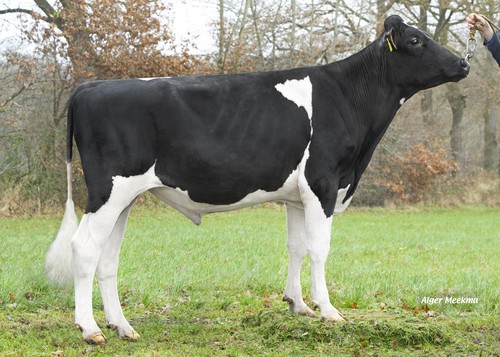 3STAR OH Mantra, full brother to 3STAR OH Mabelien
3STAR OH Roxanne, like Mabelien, is a first lactation Silverridge V Einstein. She comes from the strong breeding Whittier-Farms Outside Roz EX-95 family. An USA cow family that gives top conformation cows and tests high in multiple systems. Roxanne's dam, K&L OH Rozella VG-85 (by Gymnast), is the full sister of K&L OH Rossi Guay: the former number 1 gICO in Spain. And the story continues, because Roxanne also managed to deliver a 3STAR OH Ranger Red son to an AI. Female offspring of the Einstein daughter score up to 153 gRZG and 2859 gTPI (red carrier).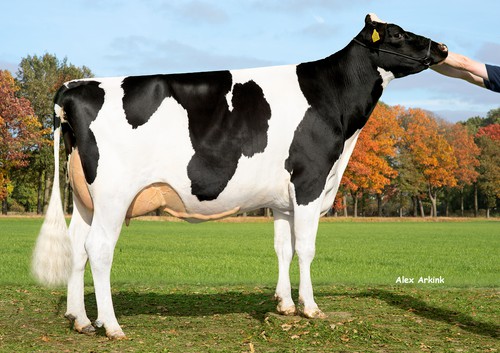 3STAR OH Roxanne GP-83 (Einstein x Gymast)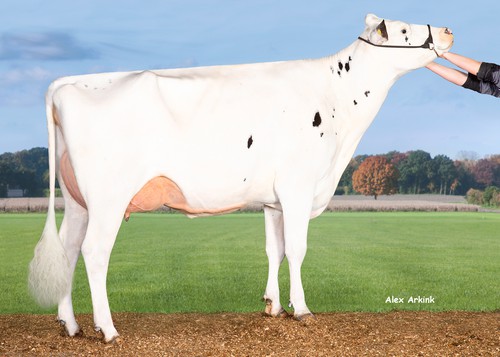 Dam K&L OH Rozella VG-85
The fresh 3STAR OH Red Rosy, full sister of the number one R&W sire 3STAR OH Ranger-Red, is a well balanced milking heifer. This powerhouse, and thus a direct daughter of Lakeside Ups Red Range VG-86, is an all-rounder when it comes to her genomics profile. A mating with Aprilday Ron Trumpet-Red resulted in a.o. 3STAR TDB Red Flower. This young offspring scores 152 gRZG with 2842 gTPI and enormous health breeding values! She is owned by Thomas de Brabander, De Oosterhof and GenHotel.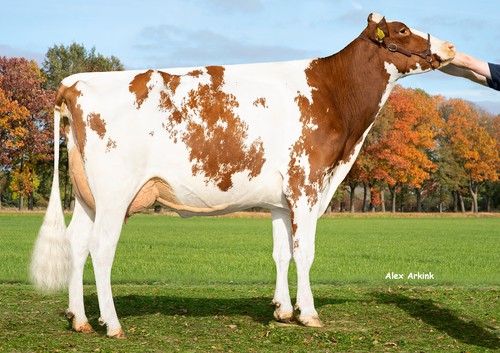 3STAR OH Red Rosy Red (Rubels Red x Salvatore RC)
In this lovely group, a red descendant from the Wilder Kanu 111 RDC family could not be missed. The direct daughter of multiple bull dam Kalibra SX 5631 Red VG-87 was shining in front of the camera. It concerns Caudumer Solitair P Red-daughter and also bull dam De Oosterhof K&L Kalibra 1 P Red! So far, her polled, red offspring tested up to 157 gRZG. For example, 3STAR OH Kalistar P Red (by Poppe Freestyle-Red) scores a high 157 gRZG. And 3STAR OH Ranger-Red daughter - 3STAR OH Karina P Red - not only tests 157 gRZG, but is also 2790 gTPI! A full brother of Karina P Red has been sold to an AI.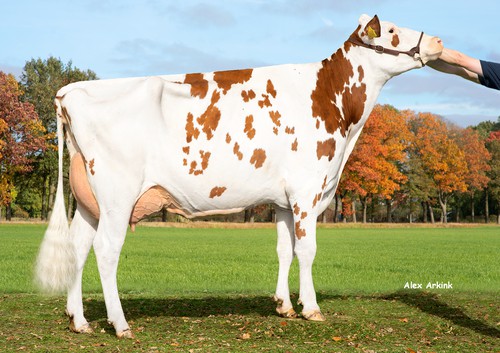 De Oosterhof K&L Kalibra 1 P Red (Solitair P Red x Styx Red)
The four weeks fresh 3STAR OH Alexia Red (by Rubels-Red) is a extremely wide and strong-built milking heifer with a super wide and high attached udder. Despite the fact that she was just fresh, Alexia Red still managed to make a very good impression in front of the camera. Alexia Red has a 163 gRZG and 2737 gTPI testing, red Star P RDC daughter: De Oosterhof 3STAR Juliane Red. This characterizes the breeding strength of the KHW Goldwyn Aiko RDC EX-91 family, to which they belong. Meanwhile, more and more daughters of the breeding cow Batouwe Ailisha Salva Red VG-86 are in lactation and dairy farmers and top breeders get very exciting!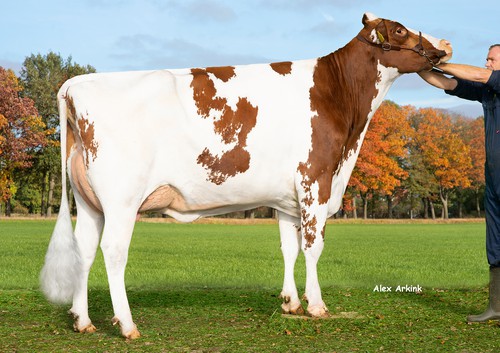 3STAR OH Alexia Red (Rubels-Red x Salvatore RDC)