GenHotel welcomes De Rith Holsteins!
General
Lisette and Adrion van Beek
The list of GenHotel members is expanding rapidly! We welcome De Rith Holsteins and introduce you to its owners, the Van Beek-Peeters family.
De Rith Holsteins is currently milking over 170 cows. The cornerstone of this dairy herd for a long time was the Etazon Addison daughter De Rith Nora 265. She is one of the few cows in the Netherlands and even globally that managed to produce more than 200,000 kgs of milk during her lifetime. At the age of 15 yrs-old, this powerhouse was classified VG-88 (EX-91 FL) and produced in her lifetime 200,145 kgs of milk with 14,701 kgs of fat + protein!
Conformation
Although milk production is of high priority to the Van Beek family, they also enjoy cows of great appearance. In addition to the fact that Adrion van Beek is often invited to judge shows throughout the Netherlands and partipate with cows in several shows himself, this can also be seen from the fact that last summer the fourteenth excellent cow within the De Rith herd presented herself, namely De Rith Nova Emblem 17. This is a 3rd calver AOT Silver Helix daughter, which is classfied EX-90 including EX-92 DS. With this, Van Beek even bred the first excellent Helix in the Netherlands. Nova Emblem 17 EX-90, which descends in five generations from multiple bull dam UFM-Dubs Sam Erin EX-90, is projected in 305 days at 12,550 kgs of milk with 4.46% fat and 3.12% protein.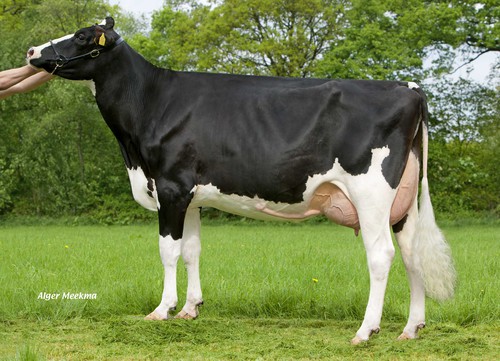 Granddam De Rith Nova Emblem VG-87 (s. Man-O-Man)
Investing in the future
In addition to the homebred cow families of De Rith Tetje, De Rith Trees and Suzanne, who have had a permanent place in the De Rith herd for years, Van Beek also regularly invests in promising heifers from proven international cow families. They milk offspring of none other than Bel Astre Unforgettable EX-91, Ord Bizou EX-90 (same family as DKR Bulona EX-93), Hanoverhill Tony Rae EX-96/Glenridge Citation Roxy EX-97 and Snow-N Denises Dellia EX-95. The most recent investments have been made in the great family of Galys-Vray EX-94 & Hanna-Vray EX-95 and Pleasant Nook F Prize Circus EX-97!
Corse-Vray EX-92
In 2018, Van Beek took the opportunity to purchase a young full sister of Galys-Vray EX-94 and Hanna-Vray EX-95: Nelis-Vray. Once in milk, the Atwood daughter was already good for VG-87 with MAX VG-89 Frame. Flushes with the popular type sires Mr Blondin Warrior-Red and Blondin Thunder Storm worked out well and resulted in the birth of (respectively) De Rith Warrior Vray RDC VG-88 and De Rith Thunder Vray VG-88 MAX VG-89 DS & MS! Due to the high PTAT score of Thunder Vray VG-88 she was flushed several times to generate more high offspring from this impressive cow family. With success, because at the moment her +4.01 gPTAT testing daughter De Rith Hanans Vray (by Siemers Exc Hanans) - the current number 2 gPTAT Hanans in Europe - is being used as the next generation of embryo donors! Enquiries for embryos out of Hanans Vray are welcome.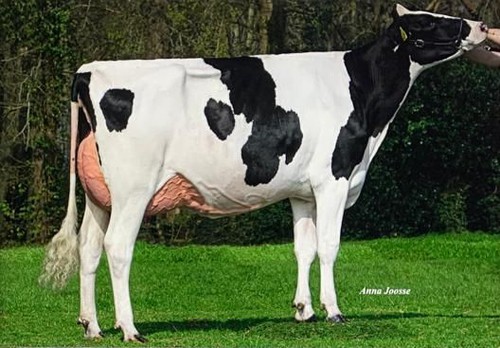 De Rith Thunder Vray VG-88 (Thunderstorm x VG-87 Atwood) is co-owned with Molenkamp Holsteins
Pleasant Nook F Prize Circus EX-97
The Jersey breed is has also the sympathy at De Rith. Just last week, the one-year-old Venus Cheyenne V I P daughter Venus Cheyenne was purchased. This several generations excellent cow family goes back to the fantastic Prize Cirucs EX-97 - three-times Grand Champion Western Nationals & two-times National Grand Champion. In addition to fantastic show animals, this cow family produced and still produces many AI bulls. Some big names are: River Valley Cabos Corporal, Family Hill Circus, Ultimate Chilli Action Colton and Elliotts Regency Casino!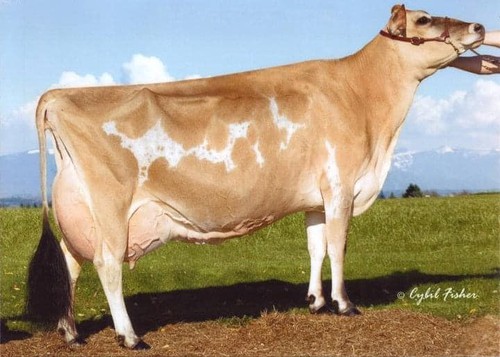 Foundation dam Pleasant Nook F Prize Circus EX-97