Another double hit at New Moore Holsteins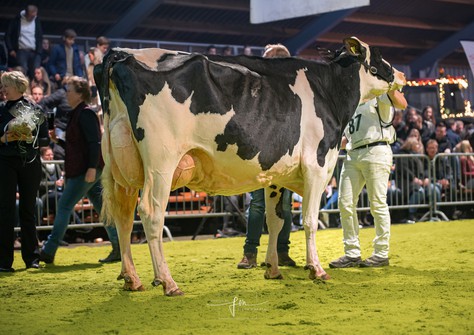 General
New Moore Fitz Esmeralda 103
Once again, at the dairy farm of the Withaar-Prent family, known as New Moore Holsteins, not one but two cows increased their score to Excellent. We would like to introduce this beautiful lactating duo, of which one of the two recently already stood in a huge spotlight, to you!
The fifth calver New Moore Col Maria412, a daughter of the Swiss sire Hellender Colin (Champion x Hellender Juror Jurgolin EX-92), has received both fantastic conformation and the opportunity to produce a lot of milk throughout her paternaline. Current lifetime production of 66,455 kgM with 4.50% fat and 3.61% protein reflects this excellently. Although the score of this Colin daughter with a total of EX-91 remains unchanged, she did manage to deliver a great performance with an upgrade of EX-95 for Dairy Strenght! Partly due to flushes, six female descendants of Maria412 EX-91 are currently present at New Moore Holsteins. One of the daughters is a second lactation Doorman which scored already VG-87 and MAX VG-89 for both Frame and Type as a 2-yr-old.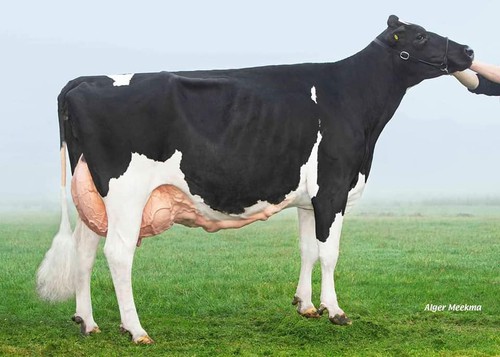 New Moore Col Maria412 EX-91 with EX-95 DS!
The by Withaar-Prent bred Senior Champion & Grand Champion of De Zuidwesthoek 2022, New Moore Fitz Esmeralda 103, manages to get through her 3rd lactation extremely strong with a projected 305-day production of 11,779 kgM with 5.00% fat and 3.46% protein. The Toc-Farm Fitz daughter of the legendary New Moore Esmeralda 38 EX-93 doesn't seem to be far of from her dam's impressive achievements, as she managed to raise her score to a whopping EX-92 with EX-92 Udder!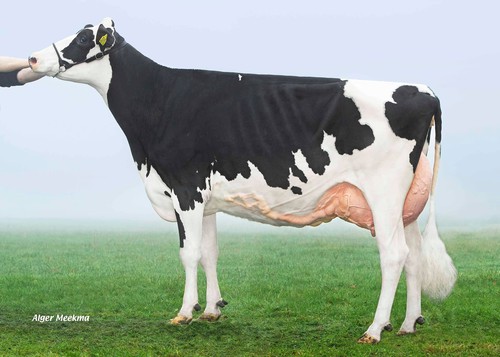 New Moore Fitz Esmeralda 103 EX-92