Maternal sisters from Silk family pictured at Geestland!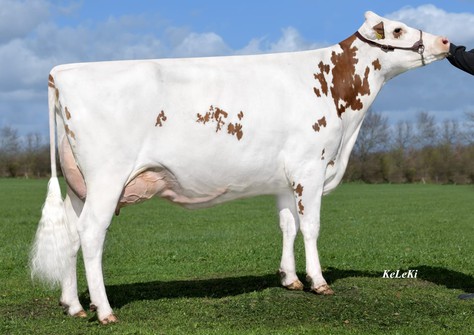 General
Schreur Vision Red VG-87, dam of the two photographed young cows
Schreur Vision Red VG-87 (by Styx Red), purchased as an embryo, provided several offspring for Geestland Holsteins (the Funck family), including female offspring of sires of sons such as PrismaGen Gnabry RDC, Spark Red, Trent-Way-Js Ronald RC and Wilder Mark RDC. From the two last mentioned bulls, Funck currently owns two red 2-yr-olds, which are also both scored VG-86! Recently the moment came to capture these Des-Y-Gen Planet Silk RDC EX-90 offspring on camera.
The snow-white GlH Zukunft Red VG-86, sired by Wilder Mark RDC, has already produced 10,066 kgs of milk with 4.20% fat and 3.55% protein in 305 days. Heifer flushes delivered already 10 offspring from Zukunft Red VG-86! Most interesting daughters are the 2718 gTPI tested GIH Ryder Be Hopeful (by Koepon Ryder-Red) and her full sister GlH Ryder Be Happy Red with 152 gRZG & 137 gRZE.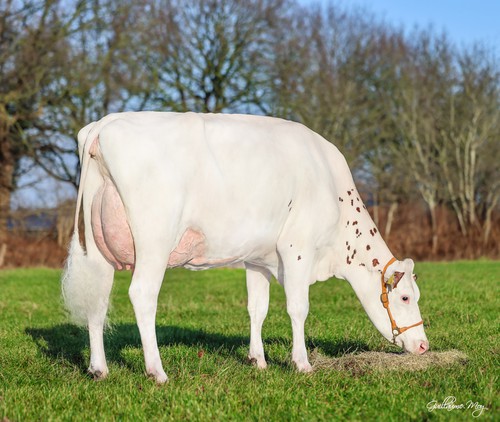 GlH Zukunft Red VG-86
The progeny from GlH Ronald Aura Red VG-86 confirmed that this Trent-Way-Js Ronald RC x Vision Red VG-87 is a huge gTPI & gRZG transmitter! A son of her has already been purchased by a German AI stud and her daughter GlH Flight Roxette Red (by Poppe Flight Red) also shows tremendous potential to grow into an influential donor with 162 gRZG.
Both heifers and some of their female offspring will be tested in Switzerland. In addition to the cow family which they belong to, their German genomics profile also makes them great candidates to score high on the gISET basis!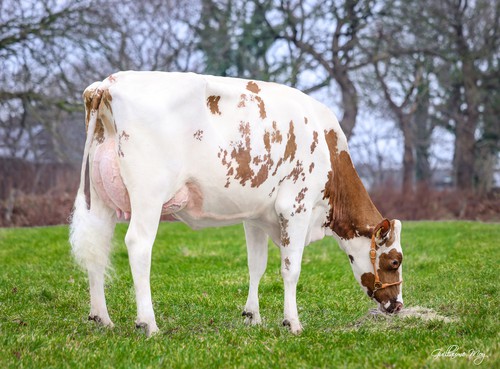 GlH Ronald Aura Red VG-86