GenHotel welcomes: Oostvogels Dairy
General
Annie 149, a homebred EX-91 Big Malki daughter
With a great milkproduction per cow of 11,593 kgs with 4.40% fat and 3.50% protein, the herd of Oostvogels VOF is achieving a high average from their 105 cows dairyherd. Partly due to years of striving for balanced cows and placing extra emphasis on udders and legs, this herd reaches a high level on conformation basis in addition to top production.
When taking a further look at the herd of the Oostvogels family, you will see offspring of diverse cow families. With descendants of legendary brood cows such as C Glenridge Citation Roxy, Walkup Astronaut Lou Ann, Canyon-Breeze Em Ashley, Carf Emeraude and Juniper Outside Wish, Oostvogels has built up an impressive group of cows over the years.
The fresh Thunderstorm Wanda is one of the attractive investments. She was purchased by Oostvogels as an embryo out of K&L KD Wanda (by Woodcrest King Doc). From this mating, made with top type sire Blondin Thunder Storm, two daughters are born. Including this fresh calved Thunderstorm Wanda, exhibiting a fantastic udder and still scoring +2.38 UDC and +3.35 PTAT! Wanda is a descendant of Juniper Outside Wish EX-95. Her fourth dam, Siemers Brokaw Whipcream, is the 9th generation excellent in a row with EX-91!

Juniper Outside Wish EX-95
On Oostvogels' "Wall of Fame" is also a milking daughter of Lindenright Moovin RDC. In her pedigree are no less than 9 generations of dams in a row with VG or EX scores! Great granddam of this Arvis 1 is none other than Wilstar-RS Tlt Limited-Red EX-94, the Reserve Grand Champion WDE 2011 & Honorable Mention Grand Royal Winter Fair 2011. Although this 2-yr-old is only a month in lactation, her 305-day production is projected already at 9,258 kgsM with 4.10% fat and 3.44% protein.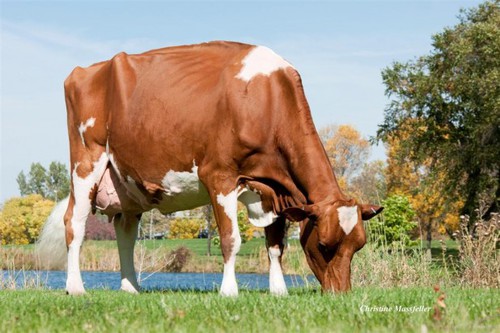 Wilstar-RS Tlt Limited-Red EX-94
The cow family of Carf Emeraude EX-91 is also present in the Oostvogels herd. From the by Ritmaster Holsteins purchased JK Eder DG Awesome Esmeralda RDC VG-86, Oostvogels has four daughters. The oldest of the four is At Esmeralda 1 RDC, by Drouner Altitude-Red. In addition, there are two daughters present sired by the popular Farnear Delta-Lambda, one of whom is Esmeralda Lambda.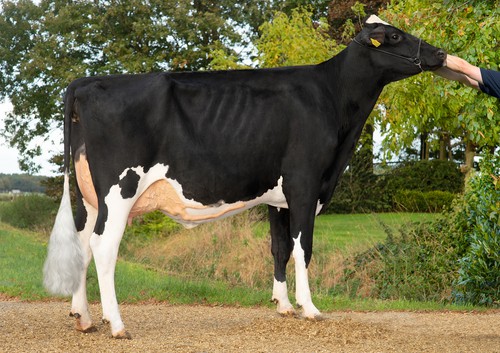 JK Eder DG Awesome Esmeralda RDC VG-86
The fact that the Oostvogels family also finds success and joy in participating in dairyshows is also reflected in the succesfull participation of the purchased Trend daughter KNS Molina P VG-89. The now third calver comes from a deep German cow family that easily transmits the polled gene through their maternal side. This cow family, which goes back to Mabel VG-88, also supplied AI bulls such as Delta Builder P, Hogwart PP and Laptop PP-Red. Molina P VG-89 took the Intermediate Honorable Mention during the Winter Show Etten-Leur in 2022. During the same event, Oostvogels also took the Championship title of the Herdgroups. At the moment, the VG-89 Trend is pregnant with Legend-Maker Victor.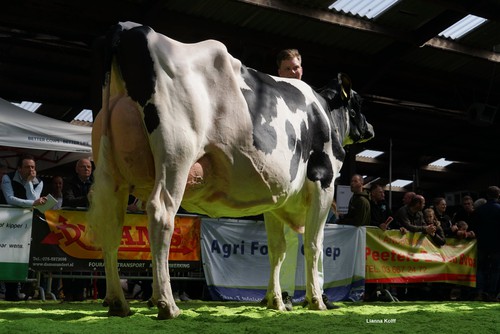 KNS Molina P VG-89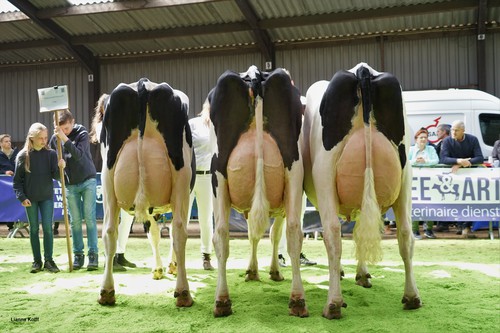 Winning herdgroup of Oostvogels at the Wintershow Etten-Leur 2022